London Dreams is Crap, Say Indian Movie Critics
Folks, this is a bloody carnage the likes of which we've seldom encountered.
The much hyped Bollywood film London Dreams has been massacred at the U.S. box office.
Clean bowled at the box office here.
The audience has spoken and they've wisely and overwhelmingly shown the middle finger to the Salman Khan, Ajay Devgn, Asin piece of junk London Dreams.
For the October 30-November 1, 2009 weekend at the U.S. box office, London Dreams came in at No-23.
The movie reported one of the lowest openings for a Bollywood film featuring big stars in recent memory.
London Dreams had a total gross of a piffling $207,964.
Worse, the average per theatre was a shameful $2,536, again one of the lowest for a high profile film with big-name stars.
Here's how London Dreams fared at the U.S. box office compared to a few other prominent Bollywood films: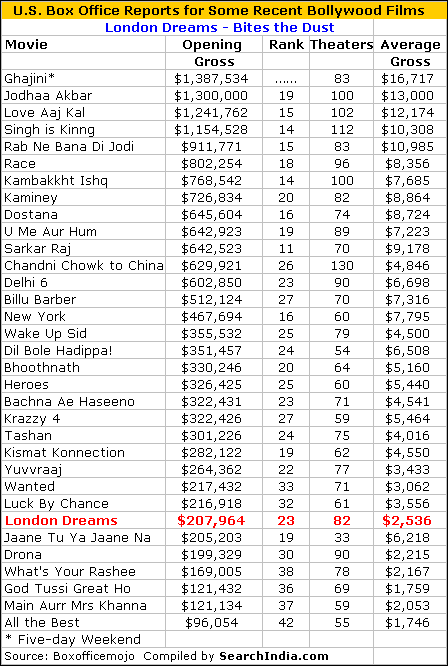 Related Stories:
London Dreams – Falling, Failing, Flailing at Box Office
London Dreams is Crap, Say Indian Movie Critics
London Dreams – A Pipe Dream in UK Too