Fair is foul, and foul is fair:
Hover through the fog and filthy air.
– The Three Witches in Macbeth
Nandita Khanna, do you have no shame at all for running one of the filthiest and crappiest Indian restaurants a.k.a Utsav in New York City.
Eeks, even by the abysmal standards of crappy Indian restaurants in NYC, Nandita's Utsav stands out for all the wrong reasons.
Utsav, the Indian restaurant that Nandita manages in midtown Manhattan (close to Times Square), serves not merely crappy food (if you go by our dining experience) but is also one of the dirtiest (if you go by several NYC Health Department Inspection Reports).
Worse, Utsav repeatedly keeps failing the NYC Health Dept inspections (failed on Oct 27, 2009, failed on Sep 11, 2009, failed on Aug 21, 2008).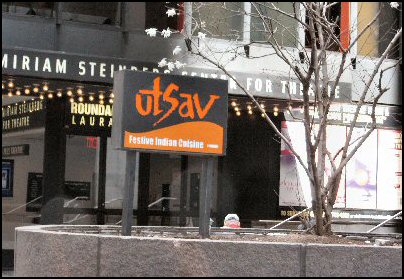 Dirty Indian Restaurant, Crappy Indian Food
Mon dieu, the following are only some of the horrors identified by a recent NYC Health Dept inspection (on Oct 27, 2009) of Utsav:
* Facility not vermin proof. Harborage or conditions conducive to vermin infestation exist.

* Evidence of, or live mice in facility's food and/or non-food areas.

* Sewage disposal system in disrepair or not functioning properly.

* Toilet facility not maintained and provided with toilet paper, waste receptacle and self-closing door.

* Sanitized equipment or utensil, including in-use food dispensing utensil, improperly used or stored.

* Food not protected from potential source of contamination during storage, preparation, transportation, display or service.

* Hand washing facility not provided in or near food preparation area and toilet room. Hot and cold running water at adequate pressure not provided at facility. Soap and an acceptable hand-drying device not provided.

* Thawing procedures improper.
Is Utsav a NYC Indian restaurant or a public toilet at a crowded district bus stand in the hinterlands of India.
Ugh.
Caveat Diner
Problems centering around vermin, mice, roaches, potential food contamination and flying insects have frequently cropped up in Utsav's prior NYC Health inspection reports too suggesting that adequate efforts are not going into addressing these 'dirty' issues that could cause harm to diners' health.
Relaxed Elegance or Ugly Excrescence?
And the Utsav schmucks have the audacious temerity to boast that their restaurant offers 'an atmosphere of relaxed elegance' and 'a beautiful location for both personal and business events.'
Ha ha ha, we haven't laughed this hard since we watched Oliver Hardy smack Stan Laurel on the head in one of the old comedies.
No, Utsav is by no stretch of imagination the Cadillac of Indian restaurants in NYC but a broken-down jalopy.
Move Your Butt, Nandita
Nandita, instead of having your cronies disturb us late in the night with calls from Japan or your restaurant manager Mohan Ahluwalia repeatedly badger us to remove the unflattering NYC Health inspection stories on Utsav from our sites, you might want to move your lazy butt and spend some time in cleaning up that rat-hole that you call an Indian restaurant.
Knowing that we're South Indians, the Utsav jokers once had a Tamil-speaking fella call us from Japan 'to rectify the situation' about some of our earlier stories on poor hygiene at this NYC Indian restaurant.
Lousy Food Too
Guys, if you thought bad hygiene is the only issue plaguing Utsav you'd be so mistaken.
This NYC dumpster, which opened its doors in 2000 due to the initiative of Nandita's grandma Emiko Kothari who supposedly owns a chain of 18 Indian restaurants in Tokyo, serves some of the most pathetic Indian food we've had the misfortune to come in contact with.
A few years back, we dined at this rat-hole a.k.a. Utsav. Here's an excerpt from our review of Utsav:
After a less than spectacular lunch at Utsav in MidTown West the other day, we concluded that this Indian restaurant's chef must have dozed off during his cooking school days.

What turned this lunch experience into an embarrassment for us was that we'd invited a guest little realizing that this was a pretender of an Indian restaurant.

If the food at Utsav was just dispiritingly ordinary (we're used to that), we wouldn't have complained. But what got our goat was that much of the food at Utsav was below par and the service (or lack of it) was pitiful.

In fact, we had a hard time figuring out which was worse at Utsav – the food or service.

We had to remind the waiters three times about our order for Mojito cocktail. The lumbering Utsav waiters looked like they'd just woken up from a Rip Van Winkle slumber.

If you are heading to Utsav with hopes of fine Indian food, fuggedaboutit. You are probably going to get tastier food from any of the New York Indian food carts (a pity that just four or five NY food carts serve Indian food).

Utsav's Dahi Baingan was too mushy and bitter. We suspected that the eggplant arrived at the kitchen in less than perfect form.

Lamb Rogan Josh was far from the promised Kashmiri delicacy. It was a hard, spiceless monstrosity that any self-respecting kitchen would be ashamed of placing before diners.

Dosas and Uttapams were travesties of the real stuff. Way too small and devoid of any taste, they had no reason for existence at all.

Mysore Sambar and the cold Chutney were so appallingly bad that Utsav's chef should be prosecuted for crimes against humanity and handed down the maximum sentence.
Guys, starve if you must, survive on air and water if you must but steer clear of this NYC rat-hole a.k.a. Utsav.