Folks, God Exists. God Exists!
No kidding.
In the name of Allah, the Holy Father and Lord Ram, we swear we saw it/him/her today in the form of Kurbaan's awful box office numbers.
Now, if this isn't God's work tell us what is.
Karan Johar's pathetic piece of shit Kurbaan has fared pitifully at the U.S. box office.
Horror of horrors, Kurbaan has done worse than New York, that other terrorist-centered Bollywood movie.
One of the most high-profile movies to come out of the Bollywood cesspool in recent months, Kurbaan had a surfeit of publicity thanks to the movie's principal stars shedding their clothes.
But even all the semi-nudity couldn't fool the people who quickly saw through the con-game of Kurbaan's producer (Karan Johar), director (Renzil D'Silva) and cast (Saifeena) -Â  they were peddling dross dressed up as gold.
In its opening weekend November 20-22, 2009 at the U.S. box office, Kurbaan, which released in 83 theatres in the U.S., grossed a measly $403,678.
Guys, Kurbaan's opening weekend numbers are less than New York, less than Dostana, less than Chandni Chowk to China, less than Delhi 6 and just one-fourth of Love Aaj Kal.
Of course, it's to be expected. Kareena Kapoor is a jonah, the kiss of death for a movie.
Utterly worthless when clothed, Kareena Kapoor is insufferable when clotheless. What a disgusting actress.
As for Saif Ali Khan, the bozo went through the movie with one-expression pasted to his face.
Trash begets trash, right na.
Kurbaan came in No-20 at the box office and had an average gross of $4,864. By the way, the average gross for Kurbaan was less than the average gross for junk like Bhoothnath, Krazzy4, Heroes, Dil Bole Hadippa et al.
Hell, even Jaane Tu Ya Jaane Na, featuring two kids Imran khan and Genelia D'Souza' had an average gross of $6,218.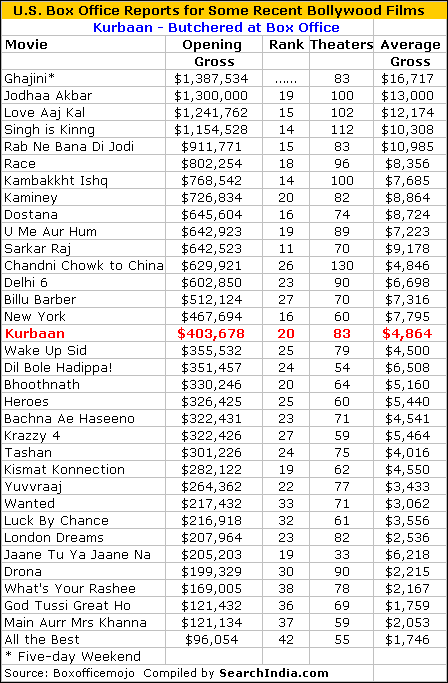 Here's how Kurbaan fared at the U.S. box office compared to a few other movies that Karan Johar has been involved with. Compared to Kabhi Alvida Na Kehna and Kal Ho Naa Ho, Kurbaan is a disaster. Now, see for yourself: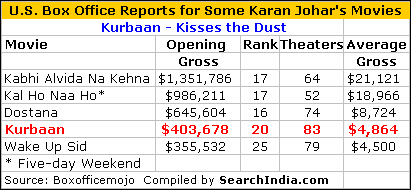 Make no mistake.
Karan Johar is just another overrated Bollywood pansy. And it shows in the poor quality of his movies.
For all those who haven't seen Kurbaan yet, stay away from this compost-heap if you have anything at all in your head.
Consider yourself blessed that you didn't have to endure this nonsense on the big screen.
As SearchIndia.com wrote in the review of this garbage a.k.a. Kurbaan:
The Short of It
Take the worst elements of Bollywood movies like Fanaa and New York, deduct all the thrills from Hollywood films like Arlington Road, throw in that anorexic, worthless actress Kareena Kapoor, add that one-expression-all-through-the-movie Saif Ali Khan and bring in the constipated maid-fucker Om Puri, voila, there you have this vile trash a.k.a. Kurbaan.

Hey, if there's any remotely credible act of terrorism in Kurbaan, it's what Karan Johar (credited with this sophomoric story) and the lobotomized cast of this junk unleash on unsuspecting members of the audience.

An Adharma Production
Peppered with cliched dialogs (did you think of me last night, are you afraid of your feelings for me), infested with badass actors (foremost among them Kareena Kapoor) and littered with illogical elements (far too many, hello, has anyone heard of 911), Kurbaan is an unforgivable, insufferable act of adharma (injustice).
Read SearchIndia.com's full review of Kurbaan here.