If you live in the snowy parts of the East Coast like we do, then you can't help but fear slipping on the dangerously icy surfaces of the roads, decks, backyard, steps et al in winter.
Like all cheapo desis, for many years we stuck to our old Made in India Hush Puppies and similar footwear.
But finally out of concern for our health and the risks of falling on ice we succumbed and got ourself a pair of Ecco boots from Amazon (yes, people buy even shoes online in the U.S.) that can better weather the snow and ice than the usual casualwear leather shoes or sneakers.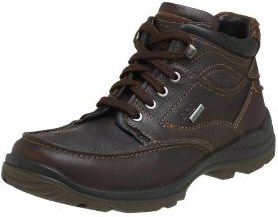 Ecco Men's Country GTX Boot
We first went to the local mall here and checked out Macy's, Boscov's and a few shoe chains like Foot Locker. Didn't like any of the stuff on display.
Back we went to our shack and our trusted e-tailer Amazon.
After much searching and researching, we shortlisted two shoes: Ecco Men's Track II High Gore-Tex Boot ($191.00-$214.95) and Ecco Men's Country GTX Boot ( $149.90-$219.95).
Well, girls can wear men's boots, can't they. So don't y'all go off on one more of your wild goose speculative trips now. 😉
We looked at both shoes from every angle (Amazon lets you do that) and read the reviews.
Finally, we chose the Ecco Men's Country GTX Boots. Of course, the fact that it was cheaper ($149.90 and came with free shipping too) helped. We did tell you we are cheapo desis, didn't we. 😉
The gushing review on Amazon by a Canadian user about how it's good for winter didn't hurt either.
The Ecco Men's Country GTX Boots are supposed to have an oiled leather upper with Gore-Tex linings so that the foot stays dry and refreshed, a removable 3mm comfort fibre insole and a durable rubber outsole for strong stepping and balance on just about any surface. That's the Amazon description for ya.
We ordered the shoes on Sunday night (12/13/2009) and the postman delivered it a few hours ago (i.e. on Friday, 12/18/2009).
Our Ecco boots would have been on our feet sooner had we been willing to pay extra for two-day shipping. Ha ha ha, catch a desi willing to pay extra. No way, kiddo. We're in no hurry.
The neatly laced boots came in a regular shoe box that was inside the usual larger Amazon box.
Comfortable Footwear
We tried on our new Ecco Men's Country GTX Boots and went out for a short walk a little while ago.
Folks, our first impression – the boots are very comfortable.
The shoe has a neat finish too.
We like 'em so far.
By the way, these Ecco Men's Country GTX Boots are made in Slovakia, not in China, India or Phillipines.
But of course the crucial test of the boots will come when we walk on icy surface.
Will our new Ecco Men's Country GTX Boots be as slippery as our worn-out Indian Hush Puppies or will they be better?
The icy test shouldn't take long because these days the weather conditions here are pretty bad. Awfully cold.
Right now, it's 29°F outside (i.e. -2°C).
Plus, there's a snow forecast for tomorrow here (i.e. on Saturday).
We'll update this post once we wear these Ecco Men's Country GTX Boot on snow/icy patches.
By the way, the folks at Gore-Tex (which makes the special fabric used by Ecco) offer to repair, replace or refund the price if you are not satisfied with the waterproofness, windproofness or breathability of the shoe. Sounds good, na.
Update:
We tested our new Ecco boots during the recent snow-storm (Dec 18, 2009) on the East Coast.
The boots held up well in the snow although some water got into them from the back because the snow was so deep (about 18-inches).
On the following days, we tried the boots on ice patches, including a large one in the parking lot of our Acme grocery store.  Just to be on the safer side, we walked a little slowly on the ice.
Again, the boots held up well and lived up to our expectations. We're happy to tell you that we didn't slip on the ice.
Overall, we are pleased with the Ecco boots.
We hope they last long.