(Update: Just lost TV and cable Internet. Hope we don't lose power)
(Update 2: TV and cable Internet restored after 4 hours.)
God, we're completely snowed in today.
Several inches of snow on the ground outside. And it's still snowing.
The weathermen are warning this is a big winter storm and that travel conditions could be 'extremely treacherous.'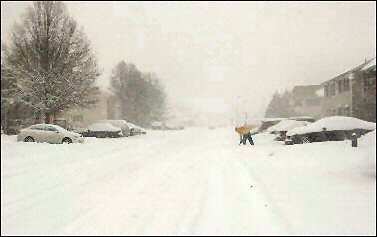 Captured this scene on the road @ 11 AM EST
Don't drive.
But if you must, make sure you are driving slowly and definitely increase your following distance to make room for skidding or unexpected stops of the vehicles in front of you.
There is also a possibility of flooding in coastal areas.
Forecast for our area is up to 20-inches of snow (nearly two-feet). Very windy too.
No Bollywood, Kollywood or Tollywood movies or Indian restaurants outside today for us. 🙁
We'll pour ourselves a chota peg and watch Clint Eastwood's For a Few Dollars More or the old Gol Mal at home.