Amid all the hype on Google's new Nexus One GSM mobile phone based on the Android software stack, we predict these touchscreen phones made by HTC won't be flying off the virtual shelves.
Not any time soon.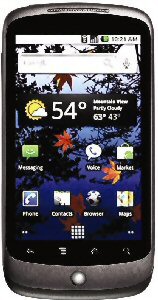 Nexus One
Consumers can buy an unlocked Nexus One directly from Google for $529 without signing up for a cell phone service or in the near future get it subsidized for $179 by T-Mobile provided you sign a two-year contract agreeing to fork out $80 a month.
Let's now look at the two options.
American consumers will not pay $529 for a cell phone, at least not in any large numbers. Not in this horrible economic climate.
U.S. consumers are used to getting phones free or at best paying $199 (16GB) or $299 (32GB) for the sleek Apple iPhone.
Plus the Nexus One will initially not work on Verizon, Sprint or AT&T's faster 3G network. It will work only on T-Mobile and AT&T's slower network.
Not in the iPhone Class
At first glance, we don't think the Google Nexus One phone is in the same class as the iPhone.
For instance, Nexus One has very little onboard storage, meaning you have to buy separate Micro SD cards to store your music, apps and other stuff. Not good. iPhone has a minimum of 16GB, most of which can be used to store your favorite music, videos, pictures or wateva.
Then there's the issue of 100,000 applications available for the iPhone.
Google claims 18,000 apps support its Android phone but we remain skeptical even of this much lower number.
T-Mobile Way
Now for the second way to get the Nexus One – from T-Mobile.
Well, if we are going to pay $80 service fee a month, why would we want to go with an insignificant player in the U.S. like T-Mobile instead of going with leading U.S. cell phone operators like iPhone partner AT&T or Verizon.
Later this year, Verizon and UK-based Vodafone also plan to offer service on the Nexus One. Whether they will also offer subsidized Nexus One phones is less clear.
Besides the U.S., Google is taking orders from the UK, Singapore and Hong Kong.
Technical Specs
By the way, here are the key specs for the Nexus One:
Hardware Features
* Display: 3.7″ AMOLED 480×800 WVGA display
* Thinness: 11.5mm; Weight: 130g
* Processor/Speed: Qualcomm Snapdragon 3G QSD8250 chipset, delivering speeds up to 1GHz
* Camera: 5 megapixel auto focus with flash and geo tagging
* Onboard memory: 512MB Flash, 512MB RAM
* Expandable memory: 4GB removable SD Card (expandable to 32GB)
* Noise Suppression: Dynamic noise suppression from Audience Inc
* Ports: 3.5mm stereo headphone jack with four contacts for inline voice and remote control
* Battery: Removable 1400 mAh
* Personalized laser engraving: Up to 50 characters on the back of the phone
* Trackball: Tri-color notification LED, alerts when new emails, chats, text messages arrive
Software Features
Nexus One runs on Android 2.1, a version of the platform's Eclair software.
* Google Maps Navigation: offering turn-by-turn driving directions with voice output.
* Email: multiple Gmail accounts; universal inbox and Exchange support.
* Phone book: aggregate contacts from multiple sources, including Facebook.
* Quick Contacts: easily switch between communication and social applications.
* Android Market: access to 18,000 applications.
* Enter text without typing via a voice-enabled keyboard for all text fields: speak a text message, instant message, tweet, Facebook update, or complete an email.
Reviewers who have played with the Nexus One think this feature is crap and needs a lot of improvement.
* Tell your phone what you want it to do – Search Google, call contacts, or get driving directions by just speaking into your phone.