What should have been the occasional spice to vary the regular menu had become the main course, leaving the appetite often confused or unfulfilled.

– Rohinton Mistry in A Fine Balance. P.60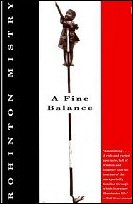 Folks, to describe A Fine Balance as a gorgeous masterpiece would be an understatement.
Yes, this is our first book by Rohinton Mistry.
And we paid all of five-cents at our local library for the castoff, worn-out, paperback copy.
No, the book was not recommended to us by anyone. As we were desultorily eying the huge pile of discards on the shelves, we stumbled upon this book.
Never has an accidental discovery been so serendipitous.
Without doubt, the best five-cents we've spent in our life. 🙂
Meaning
As for the above quote, it'd be impossible to tell y'all the context without losing the magic.
It's about Dina and Fredoon, as those who have read the book will recollect.
Of course, the quote is about sex. 😉
While it appears humorous at first glance, there's infinite sadness behind the statement. For Dina and her loss.
If you are curious, you can read about Rohinton Mistry on his Wiki profile here.