Finally, folks.
Finally.
Our modern day digital media Moses has launched the most awaited product of the last 12 months – Apple's digital tablet, the iPad.
Not since Moses' tablet containing the Ten Commandments has any other tablet commanded so much attention of the chattering classes.
iPad Unveiled
Apple's ailing head honcho Steve Jobs today launched the tablet at a media event in the Yerba Buena Center for the Arts in San Francisco.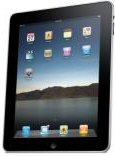 Here are the key factoids:
* iPad pricing ranges from $499-$829, depending on the storage and whether you want it with 3G (base version comes with just WiFi capability)
* Can be used for web browsing, watching online videos, listening to music, playing games, reading e-books, sending e-mail et al

* Multi-Touch 9.7-inch LED-backlit display, 0.5-inch thick and weighs 1.5lb
* Battery life of 10 hrs (won't last for the long flight to Chennai or Mumbai but good enough for trips to Europe or trips within the U.S.)
* Almost full-size soft keyboard
* Most of the 140,000 apps from Apple's AppStore supposedly run on iPad
* Easy connectivity to Apple's iTunes music and video store containing 11-million songs, 50,000-TV episodes and 8,000-movies
* WiFi version ships in March; 3G version in April
Total Ripoff
If you want your iPad with 3G service (from AT&T), it will set you back an additional $30 a month for unlimited downloads and $15 for a piffling 250MB.
And that is a mighty big ripoff, if you ask us.

Major Application
A lot of Apple observers believe that the major impetus for the iPad will come from people who are looking to read books or newspapers online in a convenient format.
Apple also talked up a new iBook app for the iPad, which will let consumers buy ebooks from the company's new iBookstore.
Apple has already stuck deals with five major publishers (Hachette, Penguin, HarperCollins, Simon & Schuster and Macmillan) and don't be surprised if there are more in the pipeline.
Is the writing on the wall for Amazon's Kindle e-book reader? Watch this space.
Big Question
Will we buy it?
Unless the reviews are bad, most likely we will.
But we're not going to plump for the 3G version. The 32GB ($599) WiFi version is good enough for us.
Having used Apple's iPhone for nearly two years, we must acknowledge that Apple makes decent, user-friendly products compared to the junk from a lot of consumer electronic vendors.
Sluggish Market Response Likely
We are deeply skeptical that the initial consumer response for the iPad will be anything like for the wildly popular iPhone or the iPod.
A lot of people (at least in the U.S.) already have either the iPhone, the iPod or one of the other digital music players.
The iPad tablet is certainly a discretionary purchase, not a must have (in our view, most things in life are discretionary buys).
With few people reading books these days, it's hard for us to envision these iPad devices selling in the millions like the iPhone or the iPods.
Plus, the recession is definitely going to crimp the purchasing mood of a lot of people here.
Unless….
Well, if service providers like AT&T or content providers like the New York Times, Wall Street Journal or some of the digital book publishers were to subsidize the tablet in return for a long-term commitment to buy their content then iPad sales could take off faster.
Will that happen?
Hard to say with certainty. Let's see how the business model for the iPad evolves.
No Midas Touch
Folks, keep in mind that notwithstanding what you might hear Steve Jobs does not have the Midas touch.
Not all of his products have become must-own products and bestsellers in the marketplace.
Remember Apple TV, the set-top device that lets you watch downloaded movies, TV shows, podcasts and digital photos from your computer on your TV or listen to music through your home theater system.
At the time of its launch in early January 2007, Steve Jobs said:
Apple TV is like a DVD player for the 21st century – you connect it to your entertainment system just like a DVD player, but it plays digital content you get from the Internet rather than DVDs you get from a physical store.
But Apple TV never caught on with consumers and turned out to be a dud compared to the company's other widgetry.
So will the iPad follow the iPhone/iPod track to mega-success or turn into another Apple TV dud?
Well, if we knew the definitive answer to that question why would we be squandering our time writing for schmucks like y'all. 😉