We don't know how folks in India go about buying big-ticket consumer electronics items.
But in the U.S. consumers rely a lot on reviews conducted by independent third parties or posted by previous buyers (who are hopefully more knowledgeable than you and are not shills for the products).
Of all the third party reviews, the reviews by Consumer Reports (a monthly, subscription-based magazine) are the most respected and considered most objective.
Ask any one (except the schmucks of course) in the U.S. and he will tell you that Consumer Reports is the Bible for smart consumers in the U.S.
After testing 130+ TVs, Consumer Reports has put out its TV recommendations in the March 2010 issue, just in time for the Super Bowl XLIV on February 7 in Miami.
If you are considering buying an LCD or Plasma TV, you can't afford to ignore the Consumer Reports recommendations: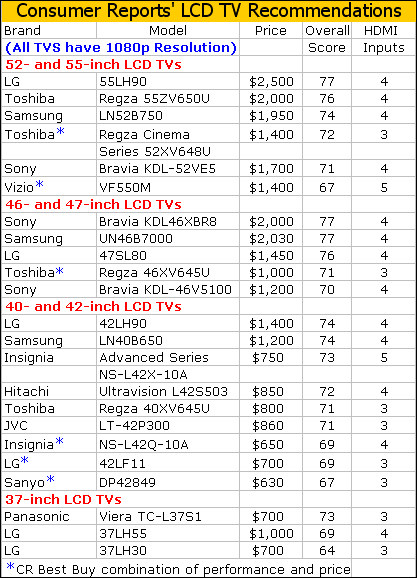 Now let's see the Consumer Report recommendations for Plasma TVs: