It seems even Allah has deserted former superstar, the Pakistan loving chutiya Shahrukh Khan.
Shahrukh's My Name is Khan has collapsed 63% in the second weekend at the U.S. box office, according to estimates put out Sunday by boxofficemojo.
Compared to his nemesis Aamir Khan's 3 Idiots, Shahrukh Khan's My Name is Khan has had a lousy second weekend in the U.S.
Really lousy, folks.
My Name is Khan's total gross in the second weekend tumbled 63% to $720,000 versus a drop of a mere 9.2% to $ 1.49 million for 3 Idiots.
The average per theatre gross for My Name is Khan also came in significantly lower at $5,760 compared to $11,322 for 3 Idiots.
The below table says it all: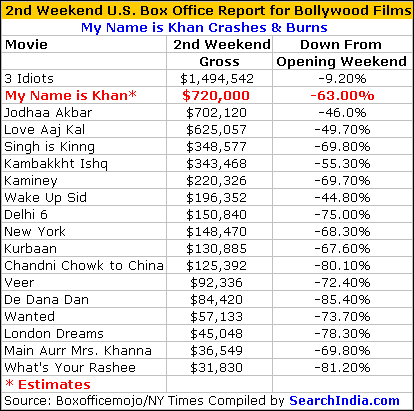 Related Stories:
My Name is Khan Review – My Name is SI and this Film is Not the Stuff of Legend
In New 4-day Estimates, MNIK Sails Past 3 Idiots
Will Allah's Followers Save My Name is Khan?
Who's the Bigger Chutia?
3 Idiots Review – Total Garbage