When market researcher IDC puts out its quarterly server numbers you can be certain of one thing – Sun will have the worst performance of all the major server vendors.
Sun = Always the laggard.
We have IDC's 4Q 2009 server number estimates with us and as sure as night follows day Sun is again the worst performer.
Overall server revenues declined 3.9% year over year in the quarter but Sun's server revenues fell a whopping 17.3%.
Here take a deko at the numbers: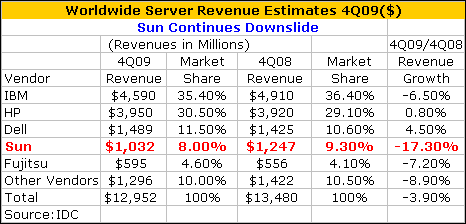 In other findings from the IDC survey:
* Linux server demand improved in 4Q09 with revenue growing 6.1% to $1.9 billion compared with the fourth quarter of 2008. Linux servers now account for 14.7% of all server revenue, up 1.4 points over 4Q08.
* Unix servers witnessed 18.1% revenue decline year over year over 4Q08 as customers waited for additional detail on the Sun-Oracle server roadmap as well as new IBM POWER7 and HP Integrity servers based on Intel Itanium 9300 processors. Worldwide Unix revenues for the quarter were $3.9 billion, representing 29.9% of quarterly server spending (down from 36.2% of quarterly server spending in 4Q08).
* Windows server demand was positively impacted by the accelerating x86 server market as hardware revenue grew 13.7% and unit shipments increased 5.5% year over year. Quarterly revenue of $5.4 billion for Windows servers represented 41.6% of overall quarterly factory revenue.