As best as we can tell, Amitabh Bachchan doesn't look like a fire hydrant, a tree or a public urinal.
Or, does he?
Like dogs lifting their hind legs and letting go on a fire hydrant, UK moviegoers seem to have a Pavlovian urge to unzip and empty their fire-hoses on Amitabh Bachchan films these days.
It's happening again and again and again.
Perhaps, that's the audience's way of telling Amitabh Bachchan in not so subtle a manner – time to pack up and move on, wig wallah.
This time, Amitabh Bachchan's shame and disaster is Teen Patti.
For the February 26-28, 2010 opening weekend at the UK box office, Teen Patti has had a miserable run with a total gross of just £15,368 and average gross of a pitiful £768.
We can't think of any other Indian movie with a lower average gross. Can you?
Even Tamil movies like Sathyam and Peranmai featuring no-name fellas have had higher average gross than Teen Patti.
Here's a look at how Teen Patti and a few other Amitabh Bachchan movies have fared at the U.K. box office lately vis-a-vis some prominent Bollywood films: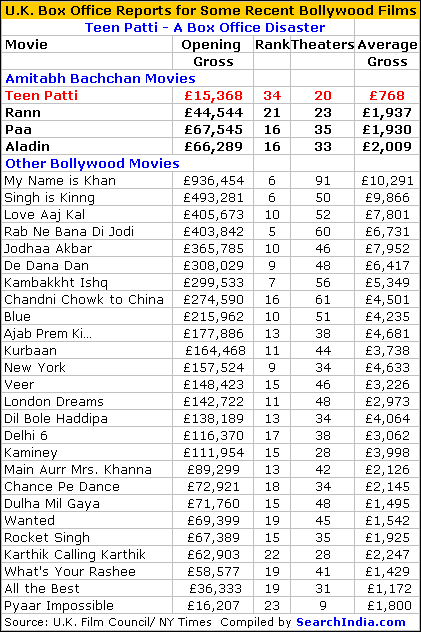 Related Stories:
Critics Take a Leak on Bachchan Sr's Teen Patti