(For SI Blog reader Kreacher)
Kreacher, did we need the Pig, Dip in the Pool and The Landlady in these short winter days of our life.
Whatever possessed you to recommend Roald Dahl's stories to us.
Well, we won't hold you completely responsible.
You see our appetite for Dahl's short stories was also whetted by our recent reading of Dahl's longer, raunchy, rambunctious work My Uncle Oswald.
Since Dahl's short stories were not easily available at our county libraries, we had to fall back upon our usual reliable source – Amazon.
The postman delivered our new copy of The Best of Roald Dahl from Amazon yesterday.
Comprised of a selection of 29 short stories culled from Dahl's Switch Bitch, Kiss Kiss, Over to You, Someone Like You and The Wonderful World of Henry Sugar, our collection includes the Pig, The Landlady, The Bestseller, Edward the Conqueror and 21 other pieces.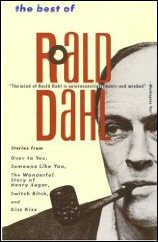 We've read four stories so far – Pig, The landlady, Dip in the Pool and The Hitchhiker.
The fourth one is fluff.
And  of the first three it's hard to say which one is most depressing.
* The Landlady is a real bad woman but predictable.
* Dip in the Pool is a poignant tale of a cruise ship gambler out of his depth. Again, you can guess which way this story is going to end.
* But Pig is an unforgettable horror story and a harsh indictment of the society we live in.
And the ending here, unlike in the other stories we've read, is impossibly unpredictable.
The Pig starts and ends in New York City.
'Tis the story of two great tragedies befalling our protagonist Lexington.
The first tragedy is an accident but the second is horrifying, being the willful outcome of a cruel, amoral society on one level and the great danger in biting into the forbidden fruit food.
Is the chilling denouement just desserts considering Lexington's avid delight in his meal at the restaurant.
Maybe!
Thank you, Kreacher.
Pig is indeed non pareil and one for the ages.
Just when we thought our dark days couldn't get darker, these cold days colder and the gloomy days gloomier, you made it so via Roald Dahl.
God knows, what further horrors lie ahead of us in the remaining stories.
As we read the other stories in The Best of Roald Dahl, we'll update this post.
Update -1
By the way, the animation film Fantastic Mr. Fox is based on Roald Dahl's eponymous novel for children.