Attn: James M.Chaparro
Chief of Detention and Removal Operations
U.S. Immigration and Customs Enforcement
801 I Street, NW
Washington, DC 20536
We're heartened to note from your memo (Courtesy: Washington Post) the other day that you are deeply concerned that the pace of deporting non-criminal illegal aliens is falling well short of the target.
You might also want to consider the depressing private sector job losses report for February 2010 put out the other day by ADP.
To assist you in expediting the removal of non-criminal illegals, may we suggest that your Immigration agents take a hard look at the rising tide of illegals from South Asia, particularly India.
Indian restaurants in NYC, Los Angeles, Bay Area et al, South Asian owned motels and desi small businesses are notorious safe havens for illegal immigrants.
It's our hypothesis that many of the Indian restaurants in NYC and elsewhere employ illegal immigrants from India to the detriment of American workers. The basis of our hypothesis is the sotto voce confessions of some of these workers to us during our visits to these restaurants.
A quick investigation by your immigration agents of Indian establishments in NYC and elsewhere should help you to establish the extent of illegals.
It's distressing that as of February 10, 2010 your immigration agents have removed or returned a mere 60,397 non-criminal aliens.
The opportunity exists to significantly enhance these numbers by probing into the South Asian restaurants, motels and other small businesses.
And expose the traitors and criminals a.k.a. employers behind such shady activities, who are causing needless anguish to American workers.
Indian restaurants in NYC are concentrated on Lexington Avenue of Manhattan and the Jackson Heights neighborhood of Queen's although they are also found elsewhere in the greater New York metropolis including in Long Island. If you are considering California, Sunnyvale and Santa Clara would be good starting points in the Bay Are; Artesia in Los Angeles; Edison/Iselin in new Jersey; and Devon Ave in Chicago.
It's no secret that illegal immigration from India has been on the rise.
As the below table from a recent Department of Homeland Security report shows, illegal immigrants from India surged 64% in the decade from 2000 to 2009, the third highest percent increase of all illegal immigrants.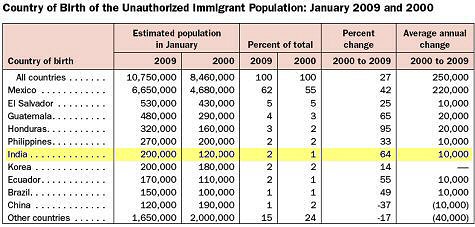 Source: U.S. Department of Homeland Security (2010)

The U.S. cannot afford such high numbers of illegal immigrants during these trying economic times for American workers.
Many of these illegal aliens may also harbor hostile intent to the homeland.
In a time of shrinking revenues for the federal and state governments, it's highly likely that illegal immigrants and their scumbag employers are surely – and sorely – hurting the economy by not paying their fair share of taxes.
Should you require any assistance, we'd be glad to provide you with some pointers as to where your agents should focus so that they can rapidly ferret out the desi illegals and deport them to their native countries, be it India, Pakistan, Bangladesh or Sri Lanka.
Such actions would surely help you in reaching your target of 400,000 removals this year.
Time is of the essence and we suggest you act expeditiously in reducing the numbers of illegal aliens from the Indian community as well as other ethnic groups so that the hurting American workers may see a ray of sunshine in these bleak economic times.
Together with the various measures taken by the Obama Administration, the rapid identification and deportation of illegal aliens will go a long way in ameliorating the lot of the hapless, beaten down American worker.
Useful Resources:
New York Indian Community Guide
Los Angeles Indian Community Guide
Bay Area Indian Community Guide
Estimates of the Unauthorized Immigrant Population Residing in the United States: January 2009
James Chaparro's Memo to Field Offices