Oh, the disgrace.
If Shahid Kapoor had any shame at all, he'd abandon Bollywood and settle down in a remote Himalayan hamlet.
Badmaash Company is the third disaster to befall him in recent months and follows the inglorious performances of Chance Pe Dance and Paathshala.
As for Yash Raj Films, time the bozos found a new vocation.
Miserable Showing
Folks, Badmaash Company has not fared badly at the UK box office. Au contraire, the new movie has fared miserably.
For the May 7-9, 2010 opening weekend, Badmaash Company could manage a total gross of a mere £54,699, less than half of Shahid Kapoor's Kaminey, which released in fewer theaters.
Badmaash Company's per theater average of £1,823 is equally unimpressive, lower than even Shahid's Paathshala and Chance pe Dance.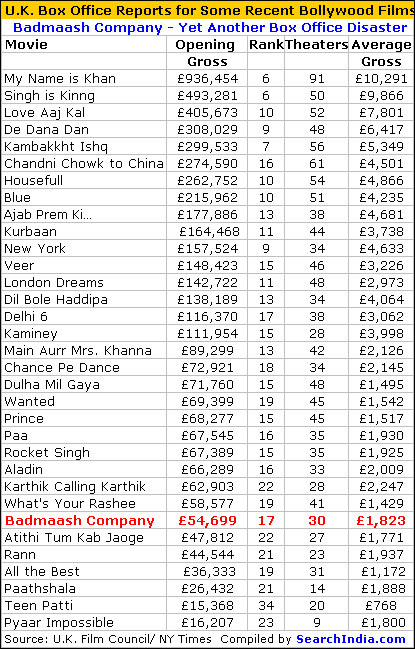 For those who have arrived lately, Parmeet Sethi (as Kuljeet Singh) lost out in that blockbuster DDLJ and now the fella has lost the audience in his directorial debut Badmaash Company.
Related Stories
Badmaash Company Review – Worth Missing