A tragedy with a happy ending?
Ha ha ha, you think we've gone completely bonkers.
So, can there really be a tragedy with a happy ending?
Yes, indeed if you are familiar with the sorry account of Lisbeth Salander's life.
For those of you who get off on thrillers, the late Swedish writer Stieg Larsson's The Girl Who Kicked the Hornets' Nest is a must-not-miss book.
The last volume in Larsson's trilogy, The Girl Who Kicked the Hornets' Nest brings forth the familiar set of characters – the oddball, anti-social, much maligned and much wronged Lisbeth Salander, the aggressive investigative journalist Mikael Blomkvist, Millennium editor Erika Berger plus a whole bunch of new ones you haven't encountered previously.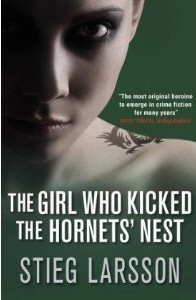 If Larsson's first book The Girl with the Dragon Tattoo focused on the disappearance of Harriet Vanger and the second volume on sex trafficking, in the third volume the author turns his gaze upon the Swedish state security agency SAPO and a small but dangerous top-secret organization within it called The Section that has wreaked havoc on Lisbeth's life in the name of state security.
It's a long-standing conspiracy like few others in Sweden. The mother of conspiracies, if you will.
Think of Lisbeth as collateral damage in the interest of protecting an evil Russian spy Zalachenko, who incidentally happens to be Lisbeth's father. No, we're not giving anything away if you've read the previous volume.
Starting where The Girl Who Played With Fire left off, The Girl Who Kicked the Hornets' Nest, like its predecessors, proceeds at a mighty brisk trot.
Lisbeth is in hospital, seriously injured with a bullet lodged in her brain.
Hell, the bullet's not the only threat to her life. There are other sinister elements on the outside determined that Lisbeth should either not survive or be declared insane yet again and thrown into the asylum.
And the very angry former Russian spy Zalachenko is in a nearby room at the same hospital.
Well, if you know Blomkvist and Lisbeth you know the duo never give up. Not without a tough fight, at least.
So the chase is on to stop a formidable set of nasty elements who'll not stop at anything, including murder, to destroy Lisbeth.
With small side-stories involving Blomkvist's occasional lover and dear friend Erika and a few others, Larsson weaves a gripping tale of injustice and murder in this 602-page spellbinder of a thriller.
As we've noted in the reviews of Larsson's earlier works, it's a mighty shame that the author of these riveting novels died in 2005 before any of his books were published, never savoring the immense fame or great fortune his books brought forth.
Such are the tragedies of life.
Be thankful that Lisbeth's tragedy at least had a happy ending.
Related Stories:
The Girl with the Dragon Tattoo (Movie) Review – Riveting, More So for Stieg Larsson Fans
The Girl Who Played With Fire – Solid Thriller
The Girl With the Dragon Tattoo – Abba of Whodunits