Desi lad Shantanu Srivatsa is out of the 2010 Spelling Bee championship.
Unless, Anamika Veeramani also misses her word in this round. In which case, Shantanu will be back in the race.
By the way, Shantanu was tripped by the word Ochidore.
The 13-year-old boy is an 8th grade student at the Cheney Middle School in West Fargo, North Dakota.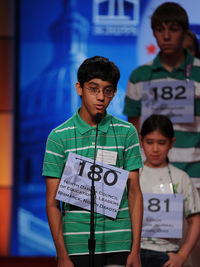 Here's Shantanu's bio from the Bee web site:
Shantanu's raison d'etre is to excel in everything he tries. However, he learned early on that, while winning is enjoyable, participation is even more satisfying. This is Shantanu's third consecutive appearance at the Bee, and his second time representing the state of North Dakota. His favorite subject is math, and has represented his school at regional and state mathematics competitions. Shantanu has played piano for six years. Some of his hobbies include collecting ancient coins to add to his coin collection, swimming and playing tennis.