By golly, who would have thought that!
It does seem like iPads are flying off the shelves faster than sanitary pads. 😉
Hell, three million units sold in 80 days for a device that starts at a whopping $500 is not bad.
Not bad at all.
And we thought the iPad wouldn't fly.
Well, truth be said we're still skeptical of the iPad's long-term prospects.
Time will tell.
What's Driving Sales
We're inclined to believe a lot of Apple fan-boys are buying the iPad for use as a net-book kind of device.
You see, the Windows users have had the netbook for well over a year now but until the iPad came along the Mac aficionados had nothing comparable.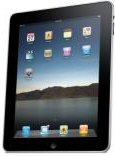 Apple said developers had created over 11,000 new apps for iPad that take advantage of its Multi-Touch user interface, large screen and high-quality graphics.
Yes, iPad should run most of the 225,000 apps on the App Store, including apps already purchased for the iPhone or iPod touch.
As many some of you know by now, iPad users can browse the web, read and send email, enjoy and share photos, watch HD videos, listen to music, play games and read ebooks via the device.
A mere 0.5 inches thin and weighing just 1.5 pounds, the iPad is supposed to deliver up to 10 hours of battery life.
Temptation
Pssst, we're getting tempted by the 32GB iPad WiFi version that goes for $600.
Our interest in the iPad is primarily as an e-book reader. Sure, Amazon's Kindle is $189 (after the price drop yesterday) but the iPad is a sleeker device.
Will we succumb to our iPad lust?
Well, you remember what Isabel says in Somerset Maugham's The Razor's Edge, don't you:
Often the best way to overcome desire is to satisfy it.
Watch this space.
Related Stories:
Apple 'Sells' 300,000 iPads; We Predict Disaster
Will Steve 'Moses' Jobs' iPad Tablet Fly? Hmmm