When we pay $6 for a newspaper (hint: the Sunday New York Times), we fancy that we're entitled to some minimum quality.
Imagine first our delight when we opened the Sunday New York Times (July 4, 2010, P.10 of the Arts & Leisure section) to find an article on two recent Bollywood films Raajneeti and Raavan and then deep anger when we found that the c*nts at the Times can't distinguish between the two Indian  film stars Vikram and Abhishek Bachchan.
A photograph accompanying an article on two recent Bollywood films Raajneeti and Raavan had the wrong caption – identifying Vikram as Abhishek Bachchan.
Folks, that is an egregious blunder.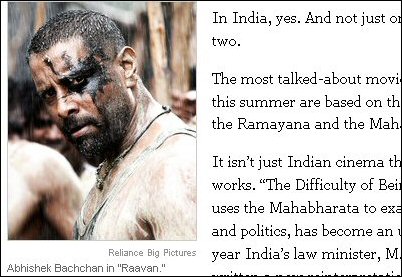 Vikram is not Abhishek Bachchan
(Photo: NYT Online Edition)
Besides the factual error, there's the grave injustice of putting the name of a hopelessly incompetent star (Abhishek Bachchan)  beneath the photograph of one of India's few talented actors (Vikram).
Abhishek Bachchan, as every Indian knows by now, can't act to save his life and is found wanting even by Bollywood's lowly standards.
At first, we thought NYT's mistake was only in the print edition but to our dismay the online edition too featured the same error.
As of July 5 evening 8PM ET, the dickheads at the NYT had yet to correct the mistake.
By the way, the offending NYT article is titled Mythic Past, Resonating in the Present.
Update @10:40PM ET July 6, 2010
After our piece was published yesterday, the c*ck-suckers at our favorite newspaper NYT have now fixed the error.
Vikram is now Vikram, not that worthless star ahem that Bollywood Zero Abhishek Bachchan.
The c*nts at our favorite newspaper NYT now have this to say:
A picture caption in an earlier version of this article misidentified the actor who plays the title character in "Raavan." The actor is Vikram, not Abhishek Bachchan, who only plays Raavan in the Hindi version of the film. Vikram plays Raavan in the Tamil version.
Should SI take credit for raising this issue and getting the error fixed? 😉
God, its occasional errors of judgment aside we love the NYT.
Really. Love the paper.
Having finished the glass of White Russian, we've now poured ourselves a glass of our usual Gilbey's Gin and Seltzer Water with Athenos Tomato & Basil Feta Cheese and Akki Roti on the side.
Oh yeah, Yeh Kaali Kaali Aankhen is playing in the background on iTunes.