Much has been written about NYC's burgers and shakes place Shake Shack over the years, enough to fill multiple tomes.
We had held off going to the older Shake Shack location in Madison Square Park primarily because of the long lines there.
But when a new Shake Shack outpost recently opened in the Theater District (8th Ave and 44th St) of Manhattan we couldn't hold back our curiosity any further.
We just had to see what the oohs and aahs about Shake Shack were all about.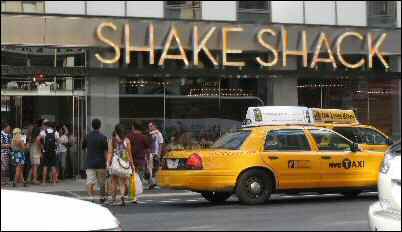 New location on 8th Ave (44th St) in the Theater Dist
So yesterday after watching the French movie Farewell,  we took a lazy walk down Broadway braving the summer heat and before long were at Shake Shack.
Although the inside of Shake Shack was packed, fortunately the lines were short. If there's anything we hate, it's standing in line for fast food.
Who but schmucks wait in line for fast food.
Our wait was less than 10-minutes but if you are heading there keep in mind that others have spoken of 45-minute waits.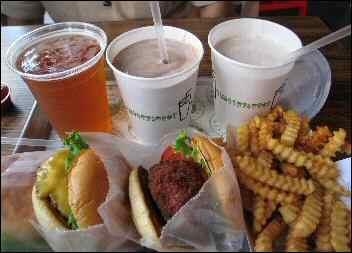 Burgers, Shakes, Fries and Beer
Blessed with a gargantuan appetite, we didn't stint when it came time to placing our order with the pretty white girl in green uniform, she with the small tits and the phony smile.
Besides the obvious ones like the Shack Burger ($4.75), the vegetarian Shroom Burger ($6.75) and shakes ($5.25), we also ordered ShakeMeister draft Ale ($5.25).
Man, it was so hot and only a cold beer could quench our raging inner fire. 😉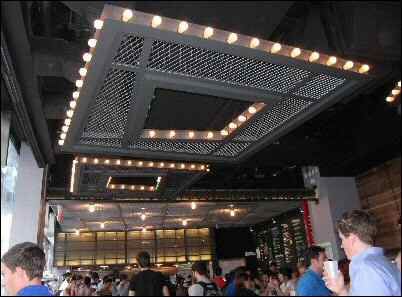 Crowded and not enough tables inside
After you place your order, you are handed an electronic gizmo that buzzes and lights up when your food is ready for pick-up.
Only after we returned to our waiting group who had found a table by then that we realized we'd forgotten the fries. So we returned pronto to the pretty White gal and ordered fries as well.
Little did we know the problem the fries addendum would cause.
Our buzzer went off after a wait of about 6 minutes. When we went to pick up our food, all we found was fries. When we asked the Black guy who handed us the fries about the rest of our order he told us that all we had ordered was fries and showed us his copy of the receipt. Not his fault but that of the Shake Shack ordering system.
Those stupid f*cks at Shake Shack couldn't even handle a simple addition to the original order. We had to show the guy our receipt for the full order, at which point he took back our fries without as much as a by your leave.
Another wait of about 4 or 5 minutes ensued for the Shake Shack clowns to fix our orders.
No apology was rendered for messing up our order and making us wait longer. 
Total Ripoff
We took our plates, picked up some napkins, straws and ketchup at an adjacent stand and headed for our table.
Alas, the ShackBurgers were small and one bite into the patty we realized we'd been had. Neither juicy nor flavorful, it was cursed with a surfeit of blandness and ordinariness.
Whatever ingredients went into the ShakeSauce, there wasn't any magic in them. Zilch.
The Shroom 'Veggie' Burger was slightly better but at $6.75 nothing less than daylight robbery.
As for the shakes, sure they were thick but nothing extraordinary in taste. Nothing that you can't easily get elsewhere.
Very disappointing overall.
What about the fries, you ask?
Hell, the fries at the Mac across the street would likely taste better. No kidding.
Folks, if you think Indian restaurants in Manhattan are a ripoff (and they are, they are) you ain't seen this total ripoff a.k.a. Shake Shack.
By the way, to use the bathroom at this place you have to enter a stupid f*cking code at the bottom of your receipt. No one tells you that before.
Unless you have a desperate urge to waste money on junk, wait in line before you can do that and stand for considerable time before you can find a table, steer clear of Shake Shack.
It's just not worth it. Period.
Show these Shake Shack ripoff artistes your middle finger with gusto. And if you are desperately hungry in the area, head for the Biryani Cart fella on 46th St & 6th Ave.