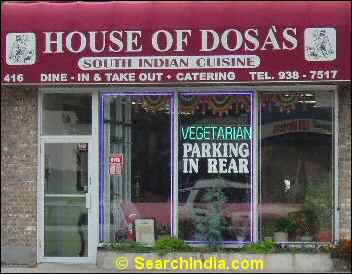 Run from the South Indian Impostor
(File photo)
In our ceaseless, unrelenting quest for a good Dosa, we've been known to haunt the major highways and small bylanes of New York, New Jersey, Pennsylvania, Delaware and Virginia in an obsessive-compulsive-ferocious frenzy.
Kinda like Dr. Hunter 'Gonzo' Thompson searching for the American Dream in Las Vegas. 😉
But rarely have we encountered such abject misery, such unremitting hostility as was our sad fate at House of Dosas in Hicksville, New York.
Located on the main Indian strip on South Broadway in Hicksville (across the road from Patel Brothers), House of Dosas has been around for several years.
Alas, like with Bollywood and Kollywood, longevity in the Indian restaurant context doesn't equate to quality.
The other day in the company of our Tamil friend we sanctified House of Dosas with our presence and greedily exposed our palate to a choice  of items including Idli, Vada, Onion Chilli Mysore Masala Dosa, Ven Pongal, Bisibella Bath, Upma, Badam Halwa, Carrot Halwa and Madras Coffee.
For the most part, our experience was so unsatisfactory, both with the quality of food and service, that we felt a troupe of monkeys in the kitchen would do infinitely better.
Unilateral Declaration of War
Idli (2 pieces for $3.50) landed on our table along with extremely hot pumpkin-drumstick-doodhi sambar, coconut chutney and dal chutney. While Idlis were soft and hot, the medium thick excessively hot sambar was low on tamarind and sambar spices and natürlich utterly flavorless.
Coconut chutney and dal chutney were cold, bland, flavorless and an unmistakable declaration of war on the restaurant's diners.
By the way, Sambar this hot could come only out of the heavy water in a nuclear reactor.
Medhu Vada (2 pieces for $3.50) came hot to the table and, mercifully, was evenly cooked and crisp.
Schade, they were accompanied by the same unbearably hot, flavorless Sambar and the two cold, bland chutneys in another sign of needless provocation on the part of the restaurant.
Fusillade Continues
Not the kind to hold their fire even at the sight of a white flag, the sepoys at House of Dosas not only continued their fusillade but brought in heavy artillery reinforcements in the form of Dosas.
Our Onion Rava Sada Dosa and Onion Chilli Mysore Masala Dosa came with the same inedible, boiling-hot 'heavy water' Sambar and cold chutneys.
Onion Rava Sada Dosa, with chopped onions sprinkled on top, was crisp but tasteless. The raw taste of chopped onions turned the unpalatable into the inedible.
But the Onion Rava Sada Dosa was merely a trial run for a bigger offensive.
The sadistic Nazis at the House of Dosas worked overtime on our Onion Chilli Mysore Masala Dosa ($10.95).
A masterpiece of imperfection, there were multiple problems with our Onion Chilli Mysore Masala Dosa.
First, the masala paste was not evenly spread on the Dosa. Second, the Potato filling was way too soggy and tasteless and seemed as if we were eating a soft taco at Taco Bell. Finally, the  old problem of the fresh off the nuclear reactor hot sambar and those monstrous cold, bland chutneys from Antarctica.
Together, the depravities completely, totally, wholly, utterly ruined any chance of our Dosas being palatable edible.
And the bozos call this place House of Dosas.
Ah, the chutzpah of these Indians.
More Pain
By now, we were bloodied and in extremis.
Yet, these rotten, deformed children of Satan, with their sharp bayonets pointed in our direction, showed us no mercy.
Uppuma was a flavorless yellow color pasty mess and for once our gluttonous selves were not unhappy with the small serving size.
But the cruel fiends at House of Dosas were still in no mood to declare a ceasefire and mounted a fresh assault with the Ven Pongal ($6.50).
Ven Pongal, when prepared with rice, moong dal, black pepper, cashew nuts, ghee and right quantity of water, is an extremely flavorful South Indian item.
Alas, our Pongal besides being very dry also lacked ghee and significantly jacked up our torment quotient.
Bisibele Bath was among the few saving graces in an otherwise horrid, unedifying meal. Our order of Bisibele Bath came with two pappadums and mixed vegetable pickle. While House of Dosa's Bisibella Bath is tasty with right proportion of rice, toor dal and curry leaves and peanuts seasoning, it was slightly on the watery side.
Bloody Hell, we're not complaining. By this time, we were grasping at straws and handing out medals if the bullets only maimed.
Coup de grâce
Badam Halwa came hot to the table but that's the only thing in its favor, that is if hot-food is always a virtue.
Low on Almonds and with an overpowering taste of ravva, it was a disgrace that no self-respecting chef with a pair of cojones would place before diners. And the serving size was way too small. For $3.50, we got just about two and half tea spoons.
Unlike the flavorless Badam Halwa, Carrot Halwa with Vanilla Ice cream ($4.50) was a decent aberration. Our sole grouse was the small serving size.
Madras Coffee was fine and had fresh coffee flavor with right proportion of milk and coffee decoction.
Pathetic Service
The poor food at House of Dosas is well matched by awful service.
The wait staff were brusque, borderline rude and indifferent to diners.
Even though there were three fully-set empty tables without a reserved sign, the House of Dosas sergeant rudely commanded us to stand by the door. Eight minutes passed before we were seated.
As soon as we were seated a waiter came and left a jug of water and three water glasses upside down on a table without table mats or table cloth. Talk of dirty swines. 🙁
The bozos never bothered to fill our water glasses and never cared to replace the empty water jug even after being twice requested.
Our order of Uppuma, Ven Pongal and Bisibella Bath did not come with serving spoons or eating spoons. We had to ask for both the serving spoons and eating spoons individually. Schmucks anyone?
Standing like sentries in front of the kitchen gulag, the four-some waitstaff were busy chatting rather than paying attention to diners.
Ayyo Kadavule (Oh, God)
Our appetite battered to a pulp, our faith in Indian cuisine shaken and our tender souls crushed, we limped out of House of Dosas into the blazing Long Island sun in silence.
Folks, House of Dosas on South Broadway in Hicksville is a trashy dumpster that's best avoided unless you are desperate to feel the repeated sting of the whip on your back.
Drink acid if you must, feast on bug-repellent if you wish, starve if you please but eschew the House of Dosas shanis at any cost. 🙁