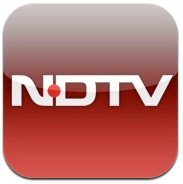 For a TV channel that's supposed to have a major presence in India, NDTV's application for the iPhone 4 has turned out to be a mighty big disappointment.
We downloaded the application sometime back and have been playing with it on and off for the last few days.
The version we're running on our iPhone 4 is NDTV 1.1 released on July 21, 2010.
Major Complaint
Our biggest grouse with the NDTV iPhone app is with the videos – They suck and suck big time.
We tried several videos and all of them just don't play.
For instance, a short while ago we tried to play the 'Salman Khan is Bigg Boss' video twice. The first time it took 33 seconds for the video to appear on the screen, then the video played for just a couple of seconds before it completely stalled. The second time, it took about 13 seconds for us to see anything at all on the iPhone screen. This time too, the video played for barely a few seconds before it stalled. We waited for some time and tried again. The video played for about 30-seconds and stalled again.
We gave up in frustration this time too, just as on earlier occasions.
By the way, we're trying to watch it on the faster WiFi network, not on AT&T's 3G connection.
The text news part of the NDTV application works fine although it'd be nice to have a Regional category under the More tab to get states-specific news.
Comparison with ABC News & AP News
Just to see if there were any problems with our iPhone and/or the WiFi connection, we tried two other news applications for the iPhone: ABC News and AP.
You know what, both the ABC News Update: Latest Headlines from ABC News (3.40 minutes) and the AP video of an Audition in New Jersey for the 10th season of American Idol (2.01 minutes) loaded instantly and played smoothly. No issues at all.
Big NDTV Lie
Here's what we found in the description of the NDTV application on the Apple iTunes page:
Daily video updates from the world of news, entertainment, sports, lifestyle, business, gadgets and health
• Top videos from all categories, most popular and the best of NDTV
Ha ha ha, Daily video updates? Of what use, if you can't play them.
Whatever weed Prannoy Roy and his cohorts at NDTV are smoking, can we have some of that please.
Other users on the Apple iTunes page for NDTV have also been complaining that the videos don't play.
The NDTV on iPhone application seems to have been built by a company called Robosoft Technologies, based in the South Indian state of Karnataka. Robosoft boasts of being a "Mobile application development company with over 10 years of experience" and "the largest Mac development house" in India.
If the NDTV application is anything to go by, the Robosoft people are a bunch of clueless buffoons.
Bottom Line – Junk
Folks, do not even consider downloading NDTV on to your iPhone if you are looking to play video.
The NDTV application for the iPhone is plain junk.
Related Stories:
NDTV 2.0 Live TV on iPhone 4 Review – Costs 99-cents a Month, Not Worth Even 49-Cents