Paki Pigs Pimping White Gals in UK
To all the schmucks who keep conjuring up visions of Pakistan as a wonderful country with just a few rotten apples, we offer the below table of a recent opinion poll by way of a response: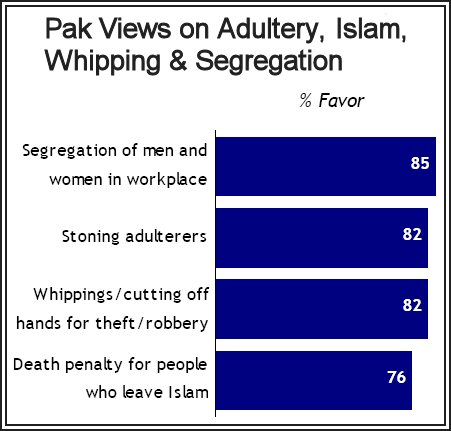 Source: Pew Research, 2010
Folks, all of us – yours truly included – often bitch and bemoan the state of affairs in Mera Bharat Mahaan a.k.a. Incredible India. The endemic corruption, the reports of nepotism, the police encounters and the starvation deaths are distressingly sickening and heart-rending to the coldest of hearts.
But compared to that hell called Pakistan, India is a veritable paradise. The Jannat, Pakistanis wish their country were.
Sure, there are incidents of communal violence in India but most Indians do not think non-Hindus should get the death-penalty just because they practice a religion different from their own. Nor do Indians support stoning for adultery.
In India, for the most part Hindus, Muslims, Christians and Sikhs live, if not in perfect amity, at least in a state of civilized co-existence.
A Sikh Prime Minister (Manmohan Singh) with a Roman Catholic boss from Italy (Sonia Gandhi), a Bollywood lorded over by Muslims (SRK, Aamir, Saif, Salman et al) and a Muslim composer (A.R.Rahman) the darling of hundreds of millions.
Hell, our Bollywood occasionally even deep-throats Paki dicks. Such is the Indian embrace of the outsiders.
Now show us another country like India.
Pakistan is a sick country because its people are, for the most part, sick pigs with sick beliefs (please see above chart again).
Related Stories:
Paki Pigs Pimping White Gals in UK
Pakistan – A Nation of Ungrateful Dogs