Voila, Slumdog Millionaire star Freida Pinto is on the cover of the Sunday New York Times Style Magazine (not to be confused with the more prestigious New York Times Sunday Magazine).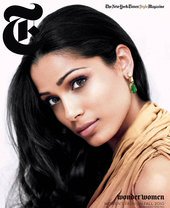 Image: NYT
Just yesterday, at the Lincoln Plaza in Manhattan just before Robert Duvall's much talked about Get Low started we espied Freida in a preview (trailer) of Woody Allen's upcoming You'll Meet a Tall Dark Stranger tell her neighbor in the apartment across from hers:
I always wanted to be somebody's muse.
In Woody's new film (to be released in September), Freida plays Dia, a musicologist who dumps her fiancé for another man.
Ha ha, as the NYT says a case of art imitating life. 😉
And this morning she's on the NYT Style Magazine cover.
Who'd have thought that!
You'll Meet a Tall Dark Stranger is not the only movie Freida has on the horizon. Come December, you can see her in Julian Schnabel's Miral.
We like Freida.
The girl has spunk.
Boy, the girl has pizazz. We hope she succeeds in Hollywood!
Here's wishing Freida 'Latika' Pinto lots of luck in her Hollywood foray.