Indian 'slumdog' Latika aka Freida Pinto (of Slumdog Millionaire fame) may be a pretty girl.
But the reviews for Freida Pinto's new film Miral, which is set for release here in the U.S. on March 25, 2011, are definitely not pretty.
In fact, the reviews for Miral are downright ugly.
Set in the Middle East, Miral is described as a biographical political film.
Freida Pinto plays the central character Miral.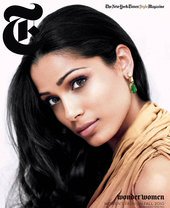 Image: NYT
A short while ago, we checked Rotten Tomatoes to see how Miral was faring at the hands of critics.
Of the 15 reviews available at 9:00PM EST on RT, 12 were critical.
That's dismal for a movie. Make that awfully dismal.
Some of the reviews, like for instance the one by Financial Times of London, are brutal on Freida.
Here's an excerpt from the FT review:
The title heroine, beginning as a little Arab-Israeli girl, becomes a crusading piece of dark-eyed crumpet played by Freida Pinto. This actress is as expressive as the beauties one finds with staples through them in the centre of magazines.
The Guardian is no less scathing in its review. Describing the focus as:
fatally divided from the outset and Freida Pinto looks uneasy and miscast as Miral herself.
Directed by Julian Schnabel, Miral features, besides Freida Pinto, Hiam Abbass and Vanessa Redgrave.
Here's the Wiki profile on Miral.