A thousand years ago, he was the most interesting man I'd ever met and I don't just mean the way he looked.

– Sissy Spacek's character Mattie speaking of Felix Bush (Robert Duvall) in Get Low.
Oh yeah, interesting certainly our Felix Bush is.
What else can a man, who wants to throw a funeral party for himself while he's still alive, be if not interesting.
Get There Now
Boy, were we glad that we purchased the tickets for the afternoon show of Robert Duvall's new film Get Low at 11:00AM itself.
For by the time we returned from lunch at Baluchi's on W56th St after seeing Animal Kingdom, the tickets for Get Low were sold out at Lincoln Plaza (Broadway and 62nd St) in Manhattan.
More than three weeks after Get Low debuted in the U.S., albeit in limited release,  the film continues to attract discerning viewers who still think quality matters in a world increasingly overrun by the tacky, tawdry and trashy.
Set sometime in the 1930s in rural Tennessee, the camera in this splendid film focuses its lens mostly on an unusual character by the name of Felix Bush, he with the Solzhenitsyn-style long beard, grouchy mien and reclusive lifestyle in his cabin in the woods, far from any human habitation.
The man is a Methuselah as his white beard, balding head and slow gait attest but is still active as you see him chopping large timber blocks into small pieces.
Whispered About & Reviled
Felix Bush is the man people in counties near and far whisper about regarding bad deeds he's said to have committed, some really bad deeds. We just don't know the details yet although there's talk of him killing some people in fights.
The old man gives credence to all the stories people tell about him by his solitary living, menacing and aggressive acts, behavior evidenced by the public thrashing he gives to Carl, the owner of the local diner.
For the funeral party, Felix approaches a down-on-his-luck local funeral parlor owner Frank Quinn (Bill Murray), who's bemoaning his sorry fate because no one's dying in the neighborhood.
If a gruff demeanor is Felix' language of choice, sardonic humor is Frank's idiom.
The movie's plentiful moments of wit come mostly in the interactions between Frank and Felix and Frank and his young assistant Buddy Robinson (Lucas Black).
With his deadpan, mousy expression, it's hard to beat Bill Murray in the humor department. Bill Murray makes even the likes of Ben Stiller seem like rank amateurs.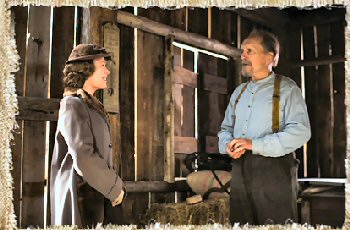 But beneath all the planning for the weird funeral-party-when-the-man's still-living, lies a dark secret that we're not privy to initially. Although we do get inklings of the dark past in Felix' life through the building on fire and the picture of the woman in white.
And it's that dark secret Felix wishes to unbosom of himself.
As the cantankerous old man Felix, Robert Duvall is astounding and delivers what many consider the performance of his lifetime.
Whether in the scene chasing the scared young boy who breaks his window or in his interactions with Mattie, Buddy, Frank or the Black pastor or when he's alone and rummaging through the papers in the box, Robert Duvall roars through the movie.
Or when he poses the rhetorical question:
Can you help who you love?
The 100-minute movie is extremely engrossing with not a single dull second.
We were stupefied to learn that Get Low is the first feature film of director Aaaron Schneider.
Indian movie-makers like Mani Ratnam et al with a gazillion movies behind them still struggle to make watchable films and here we have a gem in Schneider's first feature film.
What a Shame
Since most of our readers are desis, it's unlikely these blockheads will ever make the effort to lift their gobs curled around the dicks of some Bollywood or Kollywood dickhead or some twit's twat and go watch this fine movie.
But perchance should they do so, rich will be their reward.
Besides Lincoln Plaza in NYC, Get Low is playing in select theaters across the U.S. including in Ritz Center in Voorhees, Ritz East in Philadelphia and at Atlanta, Austin, Seattle, Chicago and Los Angeles.