Guilty – Tamil Peeping Tom Dharun Ravi
Rutgers university freshman student Dharun Ravi of Plainsboro, New Jersey, is up shit-creek after Tyler Clementi, a room-mate Ravi allegedly viewed on a webcam having sex with a guy and then disclosed it on Twitter, committed suicide by jumping off the George Washington Bridge.
Ravi's classmate Molly Wei is also in trouble with the authorities regarding the incident.
Dharun Ravi hails from the South Indian state of Tamil Nadu.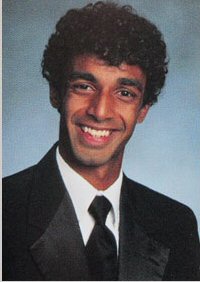 Dharun Ravi
(Image Source: NYT)
Here's an excerpt from the New York Times:
The Middlesex County prosecutor's office said that Mr. Clementi's roommate, Dharun Ravi, 18, and another classmate, Molly Wei, 18, both of Plainsboro, N.J., had each been charged with two counts of invasion of privacy for using "the camera to view and transmit a live image" of Mr. Clementi. The most severe charges carry a maximum sentence of five years in jail.

Mr. Ravi was charged with two additional counts of invasion of privacy for trying a similar live feed on the Internet on Sept. 21, the day before the suicide. A spokesman for the prosecutor's office, James O'Neill, said the investigation was continuing, but he declined to "speculate on additional charges."

Steven Goldstein, chairman of the gay rights group Garden State Equality, said Wednesday that he considered the death a hate crime. "We are sickened that anyone in our society, such as the students allegedly responsible for making the surreptitious video, might consider destroying others' lives as a sport," he said in a statement. "As this case makes its way through the legal system, we can only hope the alleged perpetrators receive the maximum possible sentence."
Dharun Ravi was arrested and is now out on a $25,000 bail.
If convicted, Ravi could face a prison term of up to five years.
Of course, it's important to bear in mind that no one is guilty until proven so in a court of law.
Even if Ravi is judged Not-Guilty, his reputation is in tatters and he will find it hard to recover from the trauma.
News of the unfortunate incident has already spread widely on the U.S. East Coast.
Folks, it does look like one way or the other Dharun Ravi is screwed.
Related Stories:
Escaped! Dharun Ravi Gets Just 30-Day Jail Term
Dharun Ravi's Parents Blast Media for Crucifying Son in Tyler Clementi Case
Guilty – Tamil Peeping Tom Dharun Ravi
Quote of the Day – Dharun Ravi
Private Moment Made Public, and a Fatal Jump