Six months back when all ye schmucks and twits were jerking off to the mantra of iPad, the smart folks at the SearchIndia.com blog were predicting hard days ahead for Apple's tablet device.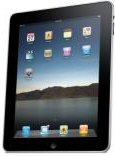 Apple's fiscal fourth quarter sales just came out and indeed iPad sales are already sluggish.
For the quarter ended September 25, 2010, Apple sold 4.188 million iPads, up by a mere 28% sequentially despite the fact that in the previous quarter iPad units were not in wide availability and launched only on April 3, nine days after the quarter started.
Wall Street's consensus expectation for iPad sales in the September quarter were 4.7 million units.
Mind you the ho-hum sales of the iPads in the September quarter comes despite launching the device in more countries and expanding the retail channel.
iPad revenues in the September quarter were $2.792 billion compared to $2.166 billion in the June quarter.
In all, Apple has sold 7.4 million units of the iPad since its launch on April 3, 2010. Certainly, not bad but given the immense hype associated with it one would have expected to see at least a 50% sequential increase in unit sales not a mere 28%.
We expect iPad sales to continue to be be sluggish in the coming quarters as well (unless there are some attractive Christmas deals).
Folks, the iPad prices are a ripoff. $700 for a 64GB WiFi only model and $829 plus $25 a month for WiFi and 3G version (offers a mere 2GB  of data per month) are extortionist prices. Show Apple the middle finger.
If you are considering buying an iPad, hold off until the prices come to reasonable levels like $500 for the 64GB WiFi version.
By the way, the iPad has 35,000 dedicated applications compared to 300,000 apps for the iPhone/iPod (these apps can also run on the iPad).
iPhone Sales Awesome
iPhone sales, of course, continue to rock.
For the just ended quarter, Apple sold 14.1 million iPhones compared to 8.398 million units in the June quarter (up 68%) and 7.367 million units in the September 2009 quarter (up a humongous 91%).
iPhone revenues in the September quarter were $8.822 billion, up 65% sequentially and up a whopping 92% year-over-year.
But iPod sales were disappointing, falling 4% sequentially to 9.051 million units in the September quarter and down11% year-over-year.
Financials
For the fiscal year ended September 25, 2010, Apple reported a profit of $14.013 billion on sales of $65.225 billion.