There's a big battle brewing in the e-book reader arena.
U.S. bookseller Barnes & Noble today launched a color version of its Nook e-book reader, the NOOKcolor.
Based on the Android software from Google, Nookcolor sports a 7-inch, color touch-screen and built-in mono speaker to listen to audiobooks or music. The device costs $249.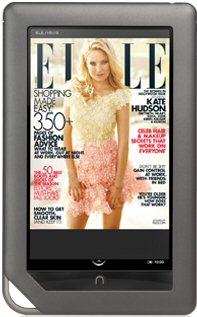 The e-book reader comes with 8GB of internal memory, enough to store 6,000 Nookbooks or a combination of 1,000 books, 25 full-color magazines, 10 newspapers, 50 kids' books, 500 songs and 150 photos.
NOOKcolor's storage can be expanded by 32GB via a microSD card.
The new device includes built-in WiFi but it does not come with a 3G capability. It measures 8.1 inches (height) by 5 inches (width) by 0.48 inches (depth) and weighs 15.8 ounces.
Besides digital books, users can read magazines, newspapers and kids books that can be read out to the young ones. Nookcolor owners can lend NookBooks to friends via Facebook or e-mail.
Nookcolor buyers will have access to 2 million digital titles and a Nooknewstand that includes The Wall Street Journal, The New York Times, USA Today, Rolling Stone, Esquire, US Weekly, National Geographic, Martha Stewart Living, Cosmopolitan and Elle.
Other Features:
* Play free games (Sudoku, chess et al) and solve crossword puzzles
* Listen to music while reading: Stream tunes from your favorite artists over Wi-Fi with Pandora Internet radio's free, personalized music service. And load MP3 and AAC songs to enjoy music while reading anywhere via the built in stereo 3.5mm headphone jack or mono speaker
* Surf the Web: Over Wi-Fi, use a full browser to visit your favorite web sites or check e-mail
Competition
Kindle, Amazon's e-book reader is not offered in color but costs $139 for the WiFi version and $189 for the WiFi plus 3G version.
Apple's iPad is in color but it's a multipurpose device that goes beyond e-books. Again, the iPad is available in both WiFi and WiFi plus 3G versions.
Nookcolor is expected to start shipping in late November at Best Buy, Walmart and Books-A-Million. You can pre-order the device at the Barnes & Noble book stores or at Nookcolor.com
Limited Success
Barnes & Noble jumped into the e-book reader market last year with the 5-inch black and white Nook.
But the device does not appear to have taken the market by storm and received critical reviews.
For instance, Wall Street Journal's tech guru Walter Mossberg wrote of the older Nook:
Overall, after testing the Nook for about a week, I don't think it's as good as the Kindle, at least not yet. At launch, the Nook has the feel of a product with great potential that was rushed to market before it was fully ready.
Does it Make a Difference?
With all these different e-book readers, will more people snuggle up with one of these devices and read more?
No, according to the savants at the SearchIndia.com blog.
While some digital media device-addicted folks may jump into the ring and buy e-book readers, we do not believe a great expansion in reading is on the horizon.
We live in a social-media age where reading no longer has the cachet it once enjoyed.
Today's ADDled youngsters are distracted by piffle like scribbling on social networks such as Facebooks or putting out short status reports aka tweets on Twitter. 🙁
Related Stories:
Kindle Review – At $189, You'd be a Chutiya Not to Buy this eBook Reader
Will Steve 'Moses' Jobs' iPad Tablet Fly? Hmmm