Some companies just won't get the message, at least not until they hear the swoosh sound of the whip falling on their exposed backside.
People don't want to buy just any tablet.
They want only the Apple iPad.
How hard can that be to understand.
But some folks just won't listen and keep rolling cheap and not-so-cheap tablets with grandiose hopes.
Mark our words, these tablet johnnies-come-lately won't even pick up crumbs.
The desperate discounting of all the major non-Apple tablet vendors lately, including by recent entrant to the market HP, is adequate proof that consumers are giving the cold shoulder to non-iPad tablets.
In the latest display of public masochism, cheap TV vendor Vizio has gotten into the tablet game with a $299, 8-inch cheap tablet that runs on the Android OS.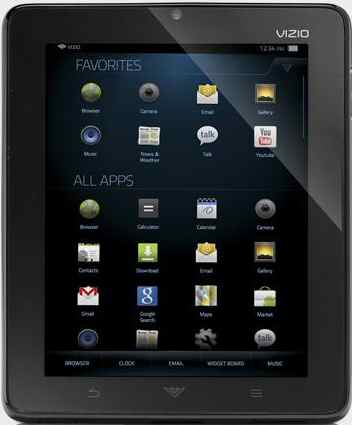 Whip- Me, Oh Please, Whip Me
Depressing
Consumers get only internal 2GB usable storage with the Vizio tablet but they can add storage up to 32GB through the microSD card.
Like all Android tablets, the Vizio too has only a few hundred dedicated tablet apps.
Now, keep in mind that the iPad has over 90,000 dedicated apps.
And going by some of the reviews on Amazon, Netflix streaming does not work on the Vizio tablet. 🙁
Some Amazon reviewers are also complaining that the battery life is coming in way below the promised 10-hours.
All in all, not promising signs.
Vizio tablet supports Flash and includes a built-in HDMI port with HDCP support for content protected HD playback on the big screen, a microSD slot and three-speakers.
Sam's Club, Walmart, Costco and Amazon are peddling the Vizio tablet.
Key Specs of Vizio Tablet
Display
Type: LED LCD
Screen Size: 8″
Resolution: 1024×768
Capacitive Touch: Yes, Multi-touch
Camera, Photos and Video
Camera: Yes – Front facing, VGA Chat Camera / 30fps
HDCP Compliant: Yes, play licensed media from your Tablet to TV
Premium Audio: SRS TruMedia
Wireless
Carrier: n/a
WiFi: Yes – 802.11b/g/n
Built-in IR Blaster: Yes – For Universal remote functionality. Preloaded universal remote app covers 95% of CE devices in US market
Bluetooth: Yes
Hardware/OS/Software
UI/OS: V.I.A. Plus interface on Android platform
Flash Support: Yes
Processor/CPU: 1GHz
Memory
Processor Memory (RAM): 512Mb
Built-in Storage: 4GB
User Available Storage: 2GB
Maximum User Storage: 32GB
Inputs/Outputs
Micro HDMI 1.4 (type D): 1
Micro USB: 1
Micro SD Card Slot: 1
Headphone Jack (3.5mm): 1
Weight
Gross: 2.5lbs.
Net: 1.2lbs.
Dimensions
Product: 6.6″W x 8.1″H x .48″D
Packaging: 7.5″W x 9″H x 2.4″D
Additional Specs
Sensors: Ambient Light Sensor, Accelerometer
Battery Life: Up to 10hrs of normal use
Power: 5V 2Amps (5V2A)
Language: English, French and Spanish
Environmental: BfR & PVC free, WEEE and No CFC's
Certifications: UL, FCC, IC, HDMI, Bluetooth
Package Contents: Tablet, USB power adapter, USB cord and cleaning cloth
Related Stories:
Holy Moley Me, Oh My, the Apple of My Eye Peddles 9.25m iPads in 3rd Quarter
Some Nice iPad Apps for Indians