America is poised for an explosion in tablet use.
You can't travel by plane, train or bus in this country without seeing a tablet in someone's hands.
Go to a park, and there's a bunch of teenagers lolling on the ground with a tablet in their hand.
A lot of the tablets in consumers hands currently are Apple iPads since none of the other tablet vendors (Motorola, Blackberry, Samsung, Toshiba, Asus, Acer etc) are selling much.
But Amazon's recent launch of the $199 Kindle Fire means that a lot of Americans who couldn't afford or were unwilling to pay $499 for an iPad will now be buying a tablet.
A new study by market researcher eMarketer projects that by the end of 2011, 33.7 million Americans will use a tablet device monthly, a rise of 158.6% over 2010, the year the iPad was launched.

eMarketer expects tablet growth to slow to double digits beginning in 2012, but the number of users will climb to nearly 90 million, or 35.6% of all Internet users, by 2014.
This means one out of three online users will be using a tablet by 2014.
Wow, one out of three online users using a tablet certainly sounds impressive. Wonder what that'll do to TV watching.
Mind you, we're not talking of tablet unit sales here but usage. Since most of our readers are schmucks, let's explain – This means a single tablet may be used by more than one individual. Or what eMarketer calls device-sharing.
The researcher expects that as tablet adoption continues, less growth will come from sharing and more from replacing older devices with new ones. Eventually, tablets may become more like smartphones, which typically have a single user and less sharing.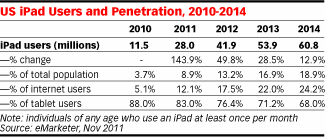 iPad Leads
Apple's iPad tablet, which has ruled the tablet market since 2010, will continue to do so throughout the forecast period, though its share will be chipped away by competitors.
American iPad users will more than double between 2011 and 2014, from 28 million to 60.8 million.
By 2014, iPad users will still account for 68% of the overall US tablet audience.
Changing Audience
Of course, the tablet audience is changing.
Women now account for slightly less than half of tablet users, but the disparity in tablet usage between sexes will continue to shrink.
eMarketer estimates that this year 31.5% of tablet users are in the 18-34 age group, while 55.5% are 35 or older.
By 2014, 18-34-year-olds will account for 34.8% of tablet users, while those ages 35 and up will comprise 49.3% of the total.
Usage of tablets will also rise faster among Whites than those of other races, growing from 60.6% of total users this year to 65.8% by 2014.