(For SI Blog reader Kreacher)
In an era of 140-character Twitters and 10-paragraph Blogs, reading books has turned out to be a major casualty.
Who gives a f*ck for leisure reading, right?
Verily, a dying tradition.
Particularly, among our desi chutiyas who mistake ogling at pictures of Bollywood starlets' thighs and tits for reading.
Alas, such are the times we live in.
What's a Kindle?
Kindle is a compact hardware device sold by Amazon that lets you read eBooks.
Amazon is currently peddling Release 2 of the Kindle (the first version debuted in 2007).
For long, we'd mulled the purchase of a Kindle but never got around to it. Partly, because like cheap desis we felt the price was unjustifiably high.
But with its recent price reduction of the 6-inch version to $189, Amazon effectively made price a non-issue. Amazon also offers a 9.7-inch Kindle for $379 but the 6-inch version is the more popular version.
Kindle vs iPad
Even so, we were tempted by Apple's iPad tablet device. We went to the Apple store in the mall and played with the iPad at length, drove the sales guy nuts and got all our questions answered.
Folks, we've got to tell you this – in sheer sex appeal the 9.7-inch iPad with its virtual keyboard beats the 6-inch Kindle with a regular keyboard by a mile by 100 miles.
Kinda like comparing that worthless twit of an actress Priyanka Chopra to say Jodie Foster or our new inamorata Jennifer Lawrence.
The iPad is backlit, which means you can read it in the dark, and scrolling to the next or previous page is so smooth. A small tap on the right or left of the text is all it takes to go to the next or previous page respectively. Just like on the new iPhone 4.
Also buying books on the iPad is a breeze.
The iPad offers full color display while the Kindle is still restricted to black and white.
Although our interest in the iPad was primarily as an eBook reader we knew we could also use it as a digital media entertainment device to play songs and movies or to even blog on it.
Alas, the iPad is not in stock. Not at Apple Store and not even at Worst Buy oops Best Buy (at least, not the 32GB WiFi-only model).
Keeping in mind the iPad's non-availability, its higher price point and the significantly larger eBook content for the Kindle (672,000 vs 60,000 for iPad), we decided yesterday to go in for the Kindle.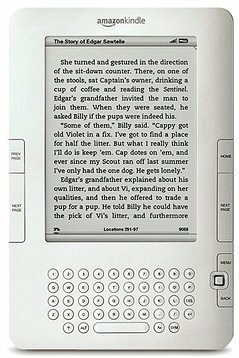 Kindle eBook Reader
(Image: WSJ)
Smooth Ordering
We ordered our Kindle on the Amazon web site around noon Tuesday selecting the free 2-day delivery option.
Surprise, surprise, the UPS guy delivered our Kindle Wednesday, 24 hours earlier than scheduled. We guess it must have come from the Amazon warehouse located not far from our place.
After fumbling a bit, we opened the box and there it was the white-color Kindle along with a short user manual and a cord to charge the reading device and also to connect it to a PC for download/upload.
The device is slim, light (10.2 oz) and supposed to be able to hold up to 1,500 books. More than adequate for the little time left us.
Unless you are Abhishek Bachchan, it's easy to figure out the Kindle's menu and functioning in a few minutes. The key control buttons are positioned on the face of the device except for the power button and headphone socket, which are on the top and the volume control on the right.
We also ordered a case for the Kindle ($25) but we've yet to receive it.
Disadvantages
* The biggest negative of the Kindle is that it is not backlit, which means you can't read it in the dark.
While many have pointed that the iPad is hard to read in the sunlight we don't think it's an issue because most books are read indoor, not on the beach where you go to ogle at the bikini babes. 😉
* There's no color and when you move from one page to the next there's that irritating shift.
* No touch-screen capability.
* It's not possible to quickly skip several pages by holding down the Next button.
* On a couple of occasions while we were trying to buy an eBook from Amazon the widget did not work and gave us the following error message:
Your Kindle is unable to connect at this time. Please try again later. If the problem persists, please restart your Kindle from the Menu in Settings and try again.
Advantages
* Reading on the Kindle with its e-ink technology indoor is comfortable.
We read Samuel Johnson's essay on Cowley in bed.
* When you set the Kindle down, it goes to sleep in a few minutes and after waking it up by sliding the Power button it returns to the page where you stopped. Nice.
* Bookmarking and note features (have yet to try the notes).
* Comes with a built-in 3G capability to buy books wirelessly.
* The text-to-speech feature works via the built-in speakers or the headphone. We tested this feature briefly and found it to be alright (but not spectacular).
* Buying books was easy, search and hit buy. We 'purchased' a few from the Kindle store at Amazon.
But all of them were free. The eBooks we 'purchased' include Lives of the Poets by Samuel Johnson, Plutarch's Lives, Volume 1 and Gibbon's Memoirs. Each of the 'purchases' took us about 30 seconds.
* Transferring eBooks downloaded to our PC for free from Archive.org was a piece of cake.
Free eBooks we acquired from Archive.org include Letters on the State of Christianity in India by Abbe Dubois, a French missionary who lived for 30 years in south India in late 18th and early 19th centuries. On the flip side, there are plenty of spelling errors, garbled words and line breaks in some of these free eBooks, like for instance in Letters on the State of Christianity in India.
* Satisfies the urge for instant gratification.
* Cheaper than hardbound bestsellers.
* Plenty of India-related historical eBooks that you can get for free including, yes, the Kamasutra. 😉
Verdict
Overall,while the Kindle may not have the sex appeal and cachet of the Apple iPad, at $189 it's a steal.
The Kindle works reasonably well and you desi chutiyas would be fools not to buy it.
Now, if you'll excuse us we'd like to replenish our glass of Gin and Seltzer water. 😉
Related Stories:
Barnes & Noble Ups the Ante in e-Book Reader War, Puts Out Color Nook
Will Steve 'Moses' Jobs' iPad Tablet Fly? Hmmm