Whoa, get ye ready folks.
Sony's tablet challenger to Apple's iPad is expected to hit the market next month, well in time to tap into the lucrative holiday shopping season in North America if all goes well.
But all's not likely to go well for the Sony S1 tablet if the experience of the other iPad challengers is anything to go by.
Sony's 9.4-inch, Android 3.1-based S1 multitouch touchscreen tablet includes front and back cameras as well as a USB socket.
The tablet supports WiFi and 3G/4G for those desirous of connectivity while on the move. Consumers can also use the S1 as a remote to control their Sony Bravia TV sets.
Although Sony also has a smaller 5.5-inch dual-display S2 tablet in the works, we expect the larger-screen S1 will be the company's primary go-to-market tablet weapon against the iPad, the Samsung Galaxy Tab and the rest of the market.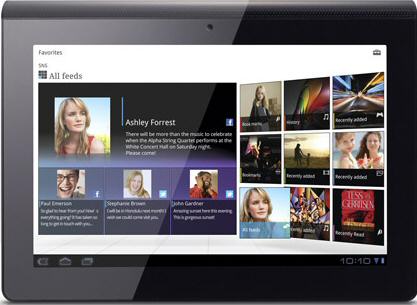 Sony S1 Tablet – Coming in September
Sony Sets Big Target
At the Consumer Electronics Show in Las Vegas earlier this year, Sony's Deputy President of the consumer products and services group Kunimasa Suzuki boldly declared that the company was aiming for the No. 2 spot in the tablet market within a year.
Surely, an ambitious target for the upstart because it'd mean displacing Samsung from the No-2 perch in just four months.
Although Samsung has had to cravenly surrender and genuflect at the altar of the iPad, it's no slouch when it comes to competing against the lesser players.
With the Galaxy Tab 10.1-inch device, Samsung is already in its second generation tablet and has presumably gained some expertise in design, manufacturing, marketing and developer relations as well as a small fringe following.
It's safe to say that Samsung is unlikely to easily cede ground to Sony.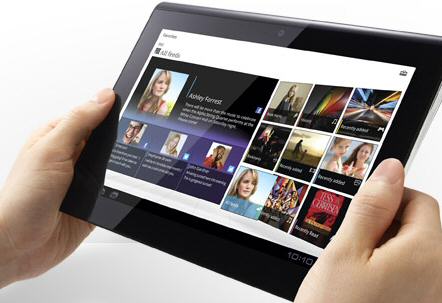 Sony S1 Tablet – New Challenger to iPad
Big Question for Sony
But the big challenge for Sony is not in upstaging Samsung but how to ultimately avoid the same tragic fate of HP's recently killed TouchPad or that of other struggling tablet vendors with no takers for their products in the stores.
As the fate of other iPad challengers has made clear, adding support for Flash or having a better resolution screen or higher megapixel camera is no protection from the predatory appetite of the iPad juggernaut, which has so far mercilessly pulverized every tablet competitor in its path.
True, Sony does have a cachet in people's mind when it comes to consumer electronics products.
But that cachet or 'coolness' has been declining as consumers are increasingly reluctant to pay a premium for Sony products. American consumers have flocked to cheaper Vizio TV models propelling to the top ranks of LCD TV set vendors.
However, American consumers have more than shown their willingness to fork out a premium to Apple products like the iPad or the iPhone.
When it comes to the tablet, Sony has multiple challenges/disadvantages vis-a-vs the iPad:
* Sony does not control the underlying software, the Android OS
* Sony does not have a large network of retail stores like Apple.
* Sony does not have the advantage of being King of Cool gadgets (that went with the Walkman).
* Sony does not have a large set of dedicated tablet apps the way Apple has (90,000 plus at last count).
* Sony does not have a large ecosystem of accessories supporting its tablet.
* Sony does not have a cozy relationship with its Android master Google the way its rival Motorola does because Motorola will be Google's favorite child going forward.
* Sony does not have the advantage of being early to the market.
With so many disadvantages at the starting gate, it's a surprise that Sony is even getting into the tablet arena.
But then no one ever said corporate executives are smart. Most only have a reputation of being smart.
What Should Sony Do to Avoid becoming Roadkill?
If Sony's executives had anything in their upper story, they'd make a beeline to SI for advice.
If they do, this is what we'd tell those blokes:
* Deliver Extraordinary, Dramatic Value Proposition. Doing the same things that Samsung, Acer, Motorola, Blackberry Playbook, Asus and the others are doing but merely in a different way is a sure recipe for disaster. Unless, Sony delivers dramatically higher value proposition compared to the iPad, it can kiss any hopes of success goodbye.
* Price Low. In any case, the entry-level tablet should be no more than $399 for a 16GB. Starting at $499 or $599 and then cutting prices when sales fail to take off a la  HP, Motorola, Samsung and RIM Blackberry leaves a poor impression on consumers.
* Leverage Sony's Qriocity streaming service and offer unlimited movies and songs free for 12-months exclusively on the S1 tablet.
* Set up more Sony retail outlets with trained, professional staff to answer questions and let consumers play with the tablet
* Seed developers through a $100 million fund to produce tons of Android tablet apps for the Sony S1.
* Consider unconventional methods like $200-off for subscribers to New York Times or other such deals
* Bundle it at attractive prices with Sony's PlayStation gaming consoles and TVs.
Even if Sony were to implement all our suggestions, success is not guaranteed against the iPad behemoth.
But at least, Sony can fall on the sword with the valiant cry that it fought a hard battle.