Apple made life tougher for all its tablet competitors with the introduction of the new 7.9-inch iPad Mini tablet (the regular iPad has a 9.7-inch screen).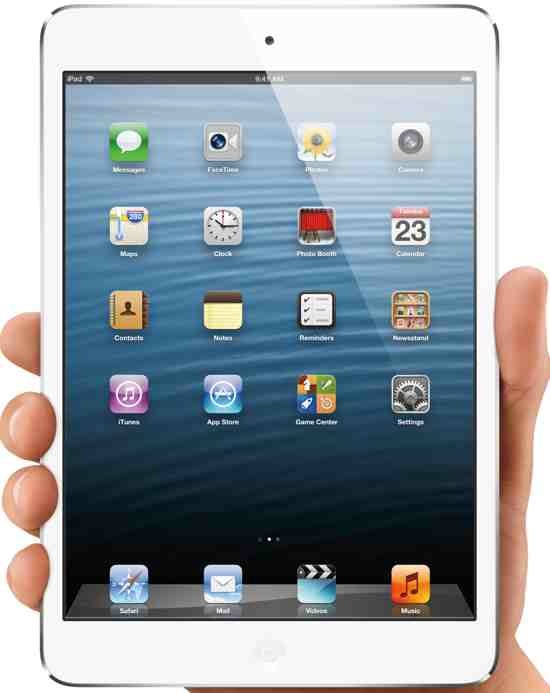 iPad Mini
* 7.9-inch, Multi-touch Screen
* 7.2mm thick
* 10-hour battery
* 0.68lb weight
* Dual core A5 chip
* iOS 6 software
* 275,000 dedicated tablet Apps + 425,000 Apps designed for iPhone
* Aluminum and glass design
* $329 (16GB), $429 (32GB) and $529 (64GB) for WiFi versions
WiFi+Cellular model – $459 (16GB), $559 (32GBl and $659 (64GB)
* Facetime HD camera
* 5-megapixel back iSight camera for still pictures and recording full 1080p HD video
* Available in two colors – Black & Slate and White & Silver
The iPad already accounts for 90% of all web traffic.
With the new iPad Mini tablets, life is surely going to get miserable for the Android vendors.
Ship Date
iPad Mini (WiFi versions) will ship on November 2.
The WiFi+cellular models will follow two weeks later.
Pre-ordering for both iPad Mini models starts October 26.
I can't imagine the Kindles, the Nexuses and the rest of the crowd of the crowd holding out for long.
I've used the iPad 2 for nearly two years now and have no complaints. It's a beauty.
By the way, Apple's 9.7-inch iPad got an upgrade with a faster processor.
The company launched a new 13-inch model of the MacBook Pro notebook with Retina display and new iMac and Mac Mini desktop computers today.