To those running around with older iPads,  don't bother to open your wallet for Apple's  new iPad launched yesterday.
The new iPad Air is not worth the extra $599 (32GB), $699 (64GB) or more if you want higher storage.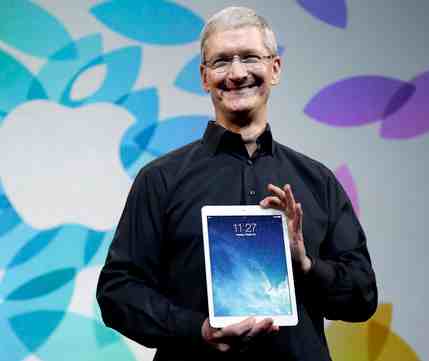 Apple CEP Tim Cook with iPad Air
(Pix: WSJ)
Except for a new A7 64-bit processor (same as in the iPhone 5s) and reducing the thickness and weight, there's not much new in Apple's new tablet.
Sure, the iPad Air is 20% thinner and 28% lighter than the fourth generation iPad but that's not enough reason to get a new tablet.
My iPad 2 works as well today as it did two years back. I watch live Indian TV channels, listen to music, play YouTube videos, turn on my favorite Korean movies and TV serials and read the news without any issues.
Although my 32GB iPad 2 is running out of space (thanks to all those digital New Yorker issues), I can still easily run with it for some more time by deleting my music collection from the  device.
iPad Air will ship November 1.
A 32GB version (WiFi only) costs $599.
The iPad Mini, which got a Retina makeover, is now $399 for the 16GB model.