What do Indian newspapers like Times of India, Indian Express, Deccan Chronicle, Business Standard, Economic Times, India West, Udayavani, IBNLive, NDTV and Network18 (last three are TV channels) have in common.
Over the last few months, all these media publications have put out iPad versions of their content.
We love our iPad and are addicted to it.
From reading books to checking movie showtimes to playing chess to catching up on the news to watching movies to making Skype video calls and more, we rely on our iPad 2.
The addition of Indian content makes the iPad even more dear to us.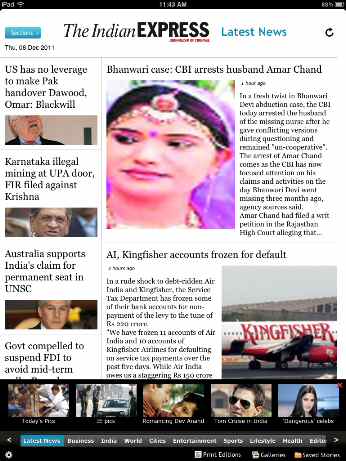 Wild Success in U.S.
In the U.S., the iPad has been a wildly successful product.
Most consumers who have purchased it love it and those who have not yearn for it.
The iPad has crushed Samsung, RIM/Blackberry, Asus, Acer and almost every other tablet in the U.S. (except the newly launched $199 Kindle Fire).
But based on what we hear from visiting friends, the iPad still has not taken deep roots in India.
Not surprising, given its high price tag (the entry-level 16GB version of the iPad 2 starts at $499).
Further, unlike a movie or software app the thieving Indian bastards cannot pirate an iPad. 😉
So presumably those Indian publications that have put out iPad versions are targeting NRIs like us or just riding the latest technology fad.
Whatever be the motivation, we're happy.
By the way, the major iPad holdout is the Chennai newspaper The Hindu.
A stodgy publication that's said to be losing ground to Times of India even in its Chennai bastion, the Hindu seems to be behind the curve when it comes to the web or iPad. Maybe if Hindu Editor N.Ram can tear himself away from his intense love affair with Wikileaks founder Assange he'll find time to put out an iPad app. 😉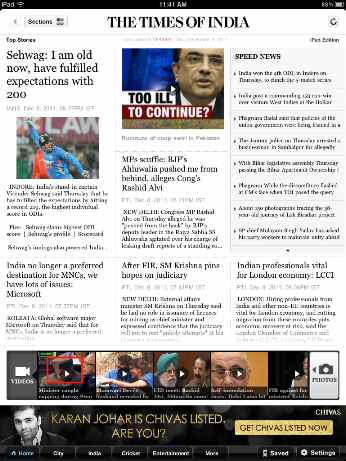 Shame, All Free
One of the distressing aspects of every Indian newspaper on the iPad is that they're all free.
And that's a shame, a mighty shame.
Because good content costs money to produce.
To give away for free stuff that takes a lot of time and costs mucho money to put together is nonsense.
The hoi polloi don't understand that or plain refuse to take note of that fact in their unrestrained clamor for free.
Of all the cheapskates in the world, Indians must be the cheapest. These mothafuckas want everything free.
If it's not free, they steal with impunity.
But if Indian newspapers not only continue to give their content for free on the web but also put free iPad and iPhone versions as well then soon they'll find themselves in the same perilous situation as American newspapers.
A lot of American newspapers are hemorrhaging badly because the number of people who buy them at newsstands or subscribe to them has fallen steeply since they're all available free on the Internet.
The obsession with getting content free on the web has grown to the extent that we've lately read even American writers boasting of getting all their news content for free.
Obviously, stupidity and greed cuts across borders.
Two of the leading newspapers in the U.S., The New York Times and Wall Street Journal, charge for their iPad versions.
Hopefully, more American and Indian publications will follow their lead.
Suggestion for Indian Media Firms
Indian newspapers must form some kind of a collective to monetize the content they spend a lot of time and money creating.
As a start, they can charge a modest monthly subscription fee of $10 to let readers access all the publications on the iPad.
A single monthly fee for the diaspora to read multiple Indian publications sounds like a good idea to us.
We know $10 a month is not a big sum. But it's at least a beginning to wean readers from the free nonsense and reliance on the low-paying obtrusive ads.
The Indian media leader is the Times of India group.
So upon them lies the onus to lead the initiative to form an entity that'll charge consumers a fee for access to their Indian content on the iPad and eventually extend the fee-based model to the web as well.
SI's Favorite – Pssst, if you ask us for our favorite Indian publication on the iPad it's without doubt the Times of India. It just can't be beat for breadth of coverage as well as ease of use.