Apple's iPad is going into places where no tablet has ever gone before.
United Airlines is converting to paperless flight decks by deploying 11,000 iPads to all United and Continental pilots.
Besides replacing paper flight manuals, the iPads will provide pilots with paperless aeronautical navigational charts via the Jeppesen Mobile FliteDeck app.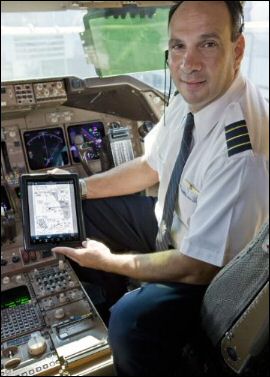 United Pilot with iPad
United executives are gushing that iPads will reduce clutter on the flight deck and let pilots quickly and efficiently access reference material without having to thumb through thousands of sheets of paper. The tablets also provide pilots with faster access to updates.
United started distributing the iPads earlier this month and expects to deploy it to all its pilots by year end.
Green Benefits
Touting the green benefits of the tablet, United said each iPad would replace 38 pounds of paper operating manuals, navigation charts, reference handbooks, flight checklists, logbooks and weather information in a pilot's flight bag.
A flight bag full of paper materials contains 12,000 sheets of paper per pilot. The green benefits cited by moving to iPads includes cutting paper use and printing, and, in turn, reducing fuel consumption.
The airline expects its iPad Electronic Flight Bags will save 16 million sheets of paper a year, equivalent to 1,900 trees not cut down. Saving 326,000 gallons of jet fuel a year cuts greenhouse gas emissions by 3,208 metric tons.
How much longer before iPads go on a space mission or reach the top of Mount Everest? 😉
Related Posts:
HP Kills TouchPad