Apple sold 35.1 million iPhones in its fiscal second quarter ended March 31, 2012 taking cumulative sales of the popular mobile phone since its launch in June 2007 to 218.24 million units.
The history of the technology industry has few parallels to the phenomenal success of the iPhone, which is a combination of a cell phone, music/video player and miniature computer with Internet capabilities.
In popular parlance, a device like the iPhone is known as a smartphone.
iPhone Sales – 200 Million Milestone
In less than five years of launch, the iPhone has not only sold over 218 million units but has also become the benchmark by which all other smartphones in the world are judged.
From basic features in the original iPhone to voice recognition capabilities in the latest model (iPhone 4S), Apple's wildly popular mobile phone has come a long way.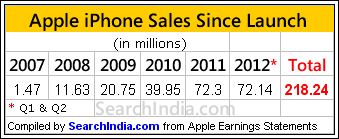 Designed in California and manufactured in China, the newest model, iPhone 4S, is today available in over 100 countries with 230 carriers.
iPhone and related products brought in $22.69 billion in Apple's fiscal second quarter, accounting for 58% of Apple's total sales of $39.186 billion in the quarter.
Apple said iPhone sales in greater China were five times the level in the same quarter a year ago.
With Apple lately aggressively pushing sales of the iPhone in low-end stores like Wal-Mart and Sam's Club, there's still lot of momentum for the device. Previously, Apple sold the phones directly, via carriers like AT&T and Verizon or at electronics retail chains like Best Buy.
Good iPad Sales
Apple also reported robust sales of its iPad tablets in the quarter.
iPad sales rose 151% year-over-year to 11.8 million units in the second quarter.
Apple reported a profit of $11.622 billion in the second quarter taking its cash hoard to $110.2 billion, much of it stashed away in overseas subsidiaries to avoid paying a tax if it's repatriated to the U.S.
Overseas sales accounted for 64% of Apple's revenue in the the quarter.