At its annual Worldwide Developers Conference, Apple today provided some numbers to assure everyone that the company was still riding high with consumers and developers.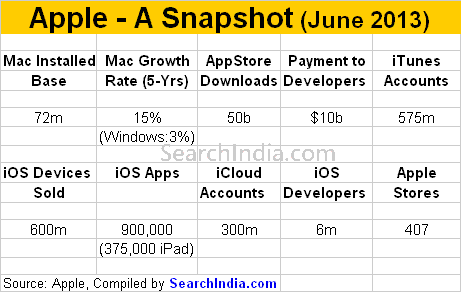 Strong Momentum
There has been so much noise in the media that Android is crushing Apple, the iPhone and iPad market share is falling and other such alarmist prognostications that one would think Apple has become like Dell, a company in dire straits.
Although Apple's profits fell in the second quarter, the company is far from being in a precarious position.
Apple continues to enjoy the strong support of consumers who adore its iPad tablets, iPhone mobile phones and MacBook notebooks.
On the applications front too, Apple continues to enjoy the strong loyalty of developers.
The company says it's got six million developers beavering away on its iOS mobile platform, of whom 1.5 million came aboard in the last 12 months.
With so many developers working on iOS, there's bound to be a flood of apps on Apple's AppStore.
And indeed there are.
Apple CEO Tim Cook today boasted to a crowded hall of developers in San Francisco that the AppStore now offers 900,000 apps, including 375,000 written specially for the iPad tablet.
The AppStore continues to be the largest App marketplace in the world, dwarfing similar efforts by Google and Amazon for the Android platform.
Mobile app developers are said to get 74% of their revenues from the iOS platform, 20% from Android and the rest from other platforms like Windows, Blackberry etc.
Apple's strong showing in recent years is not merely on the mobile side.
Even as Windows PCs struggle against the onslaught of tablets and smartphones, Apple's Mac computers show strong performance.
Over the last five years, iMac and Mac mini desktops and the MacBook notebook line have grown much faster (15%) than Windows (3%).
Apple may not have the larger numbers on its side in computer sales but the company is making the bulk of the profits on the PC platform.
The Apple naysayers are licking their wounds.
Apple Store Advantage
One of the biggest advantages Apple has vis-a-vis rivals like Google, Microsoft, Dell, Amazon, Samsung etc is a strong retail network of company owned stores where consumers can play with the iMacs, iPads, iPhones and MacBooks  without facing any of the pressure of buying right away.
Apple said today it's now got 407 stores in 14 countries.
I have been to both Apple stores and Windows stores (yes, Microsoft has belatedly started aping the Apple stores) in the U.S.
Often, the Apple stores are crowded while the Windows stores (see below) are so deserted that you actually begin to feel sorry for Microsoft.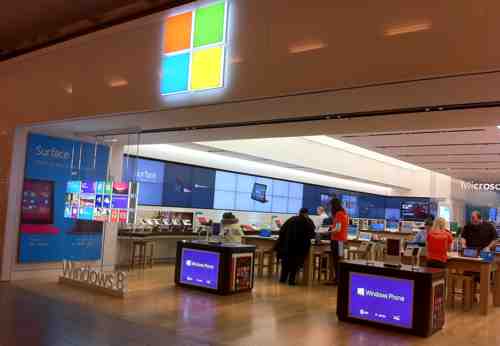 Microsoft Store Deserted in a U.S. Mall

Apple Store in the Same U.S. Mall – Crowded
With Apple announcing new models of MacBook Air notebook, a Mac Pro desktop in an alluring design, iOS 7 and an iTunes Radio service today at the developers conference, the loyal Apple base and developer community have both been energized.
Hey, we're not even talking of the budget iPhone rumored to be in the works for emerging markets.
All things considered, you can be sure Apple's star will continue to burn bright for some more time.