In the spirit of noblesse oblige, SI is providing two informative tables providing total unit sales and their dollar value for the iPhone and the iPad from their launch dates.
The data has been collected off Apple's quarterly and annual filings to the U.S. Securities and Exchange Commission.
iPhone Success
Except the stones the caveman used to ward off dangers and to light a fire, never in human history has a consumer product been so successful in so short a time.
Apple has launched six generations of iPhones since 2007 – iPhone, iPhone 3G, iPhone 3GS, iPhone 4, iPhone 4S and iPhone 5.
iPad Tablet
Apple invented the tablet category.
Before the iPad debuts, tablet sales worldwide probably numbered in the hundreds or, at most, a few thousands. Whatever be the numbers in the pre-iPad era, tablets were used only for esoteric applications and not a consumer device.
Apple has put five versions of the iPad since the tablets came out in 2010 – iPad, iPad 2, iPad (3rd generation), iPad (4th generation) and the iPad Mini.
The 7.9-inch iPad Mini, Apple's latest tablet model, debuted in November 2012.
Both the iPhone and iPad drive several billions of dollars in sales for Apple's iTunes entertainment content store, App Store and the Mac App Store. We have not included those numbers here.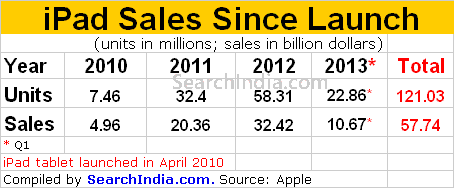 Android & iOS Future
While Google's Android platform is now making considerable headway against Apple's iOS mobile platform powering the iPhones and iPads, it's important to bear in mind that Android unit sales and net sales are spread across multiple vendors including Samsung, Google, Acer, Asus, Sony, Barnes & Noble, Lenovo etc.
It's hard to say if Apple can drive the same momentum for the iPhone and the iPad in the years ahead but history will record the extraordinary success of the iPhone and iPad from 2007-2013 as a milestone in human accomplishment.