Great profits are invariably preceded by great crimes (both legal and ethical).
Apple, the second most profitable company in the world, routinely lavishes millions in pay and stock options on its top executives including CEO Tim Cook.
But the Chinese workers who make possible the billions in profits that Apple amasses every quarter continue to suffer in wretched working conditions, are paid low wages and live in horrid circumstances.
In the past, Chinese workers have even killed themselves over miserable conditions at Apple's suppliers.
While a lot of blame has gone to the suppliers for shabby treatment of their workers, Apple is also culpable since it pays too little to its manufacturing partners to maintain its high profit margins.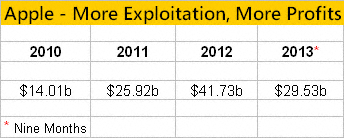 Violations Galore
A new report by China Labor Watch of working conditions in three factories of Apple supplier Pegatron highlights 86 legal and ethical violations.
The violations cover dispatch labor abuse, hiring discrimination, women's rights violations, underage labor, contract violations, insufficient worker training, excessive working hours, insufficient wages, poor working conditions, poor living conditions, difficulty in taking leave, labor health and safety concerns, ineffective grievance channels, abuse by management, and environmental pollution.
Pegatron is making the cheaper plastic iPhones that Apple plans to release in the coming months to fend off competition from the Android smartphones.
Here's an excerpt from the China Labor Watch report on Apple and Pegatron:
Apple is preparing to release a cheap iPhone. Just how does a prosperous company like Apple produce a discounted version of its phones?

At this moment, in Shanghai, China, workers in Apple's supplier factory Pegatron are monotonously working long overtime hours to turn out a scaled-back, less expensive version of the iPhone. Six days a week, the workers making these phones have to work almost 11-hour shifts, 20 minutes of which is unpaid,and the remainder of which is paid at a rate of $1.50 an hour ($268 per month) before overtime. This is less than half the average local monthly income of $764 and far below the basic living wage necessary to live in Shanghai, one of costliest cities in China. So these workers rely on long overtime hours. If a worker does not finish three months at Pegatron, the dispatch company that got the worker hired will deduct a large portion of his wages.

After a grueling day's work, what a worker has to look forward to is a 12-person dorm room, lining up for a quick cold shower in one of the two dozen showers shared by hundreds of workers.

At Pegatron, over 10,000 underage and student workers (interns), from 16 to 20 years of age, work in crowded production rooms, doing the same work as formal, adult workers. But some students are paid lower wages because schools deduct fees for the internship, while other students will not have their wages paid to them on time.
Tall Talk
China Labor Watch suggests that Apple is tall on talk about decent working conditions but does not do enough to prevent labor rights violations at its suppliers.
The report notes:
Apple has zero tolerance for lapses in the quality of its products. If a quality issue arises, Apple will do everything it can to have it corrected immediately. But a lower level of urgency apparently applies in responding to labor rights abuses. Despite its professed high standards for the treatment of Apple workers, serious labor violations have persisted year after year. Apple must prioritize its efforts into halting the abuse of the workers making Apple products.
China Labor Watch executive director Li Qiang said labor conditions at Pegatron were worse than at Foxconn, Apple's other major Chinese supplier.
Qang expects Apple's suppliers will continue to abuse labor to gain more orders.
"In this way, Apple is worsening conditions for workers, not improving them," Quang said.
Apple said it will thoroughly investigate the claims in the China Labor Watch report. Well, haven't we heard that nonsense before?