The Apple juggernaut shows no sign of slowing down.
In its fiscal third quarter ended June 30, 2012, Apple sold 26 million units of its iPhones.
Total sales of the iPhones since their launch in June 2007 now exceeds 244 million units.

Strong iPad Sales
Sales of the company's iPad tablets were also robust in the third quarter.
Apple sold 17 million iPads in the quarter, the highest sales of the tablets in any quarter since their launch in April 2010.
None of the other tablet vendors (Samsung, Blackberry, Acer, Asus, Kindle, Motorola/Google etc) have sold anywhere near the iPads.
Consumers have overwhelmingly opted for the iPad tablets despite their higher price.
There are over 225,000 native applications for the iPad, a lot of them free.
Major Indian newspapers like the Times of India, Economic Times, Business Standard and Deccan Chronicle have dedicated iPad apps.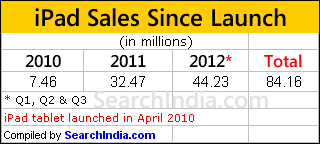 Apple Fiscal 3Q 2012 Results
Apple reported a profit of $8.8 billion ($9.32 per share) on sales of $35 billion in the third quarter.
In the year earlier quarter, the company reported revenues of $28.6 billion and a net profit of $7.3 billion ($7.79 per share). Gross margin was 42.8 percent compared to 41.7 percent in the year-ago quarter.
International sales accounted for 62% of Apple's revenues in the third quarter.
Mountain Lion Coming Tomorrow
Apple is releasing Mountain Lion, the next version of its operating system for the Mac computers, tomorrow.
Apple sold 4.02 million Mac desktop and notebook computers in the third quarter.
Revenues from Mac desktops and portables amounted to $4.93 billion in the third quarter.
By the way, this blog post was written on an iMac. 😉
You can be sure we'll upgrade our current Mac OS, OS X Lion to Mountain Lion as soon as we think it's robust.