Sony told the world today its keen desire to ritually disembowel itself by pricing its new S tablet (based on Android) at $499 (16GB version), same as the market leader Apple iPad.
The 32GB version of the S tablet will cost $599.
Sony said the 9.4-inch S tablet would be available in stores next month and the P tablet, featuring two 5.5-inch displays, later this year.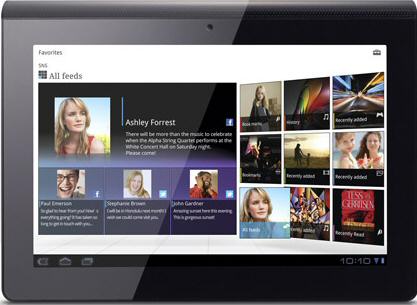 Sony S Tablet Coming in September for $499
So far, none of the Android or other tablet vendors have been able to challenge the iPad with a similar pricing.
Unless a miracle happens, Sony's S tablet will meet the same fate as all the other iPad challengers – gather dust on store shelves.
HP's TouchPad, based on the webOS, sold out only after the price was slashed to $99.
The S tablet has 9.4-inch touchscreen, weighs 1.33 lbs, features front and rear facing cameras for video recording and capturing still images, supports micro USB interface and SD card and runs on Android 3.1.
Related Stories:
Will Upcoming Sony S1 Tablet Meet Same Tragic Fate of HP TouchPad? Most Likely, Yes!