Like all of the non-iPad tablets (except perhaps Amazon's Kindle Fire), Toshiba's 10.1-inch Thrive too has turned out to be a dud.
In November, Toshiba Thrive tablets were on Groupon for $299 (a hefty $100 discount for the 16GB version), making it $200 cheaper than the entry-level 16GB iPad 2.
Ha ha ha!
Now, don't tell us you'd sell your Tablets on Groupon if you're selling well in the marketplace! 😉
The Thrive has USB and HDMI ports and even a SD card slots but prone to crashing, comes with crapware and low battery life.
And nobody gives a damn for the Toshiba Thrive.
We've played with the Thrive at one of the H.H.Gregg stores and didn't get an orgasm.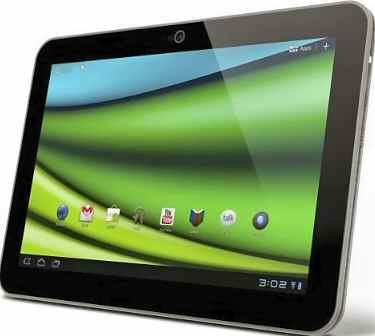 Toshiba to Bring Excite X10 to U.S.

Toshiba Plays the Excite Game
Large corporations are like human beings.
Stupid as hell!
After all, what are corporations but agglomerations of humans.
Despite a poor showing and having little chance with another tablet, Toshiba is throwing its hats into the Tablet ring yet again with the Excite X10 tablet.
This time at a higher price point than the wonderful, nonpareil iPad.
Touting it as the world's thinnest tablet at 0.3 inches (7.7mm), Toshiba plans to introduce the Excite X10 in the U.S. this quarter at a starting price of $529 (16GB version), higher than a comparable iPad 2 by $30.
If that's not a recipe for disaster, we don't know what is.
Nobody, nobody gives a flying f*ck for the "thinnest tablet" in the world.
Consumers want a tablet that works well, has buzz, comes with a solid ecosystem of applications and oozes sex appeal.
And the iPad 2 has all of them!
Consumers are not driven by price alone.
Now for all the impatient 'uns, here are the specifications for the Toshiba Excite X10:
Specifications
Latest Android software
10.1-inch diagonal LED Backlit widescreen Corning Gorilla Glass display with IPS technology and 10-finger multi-touch support
1280 x 800 resolution, 16:10 aspect ratio
Texas Instruments OMAP 4430 processor; 1.2GHz with 1GB LPDDR2 RAM
16GB and 32GB configurations
2 megapixel front-facing camera
5 megapixel rear-facing camera with LED flash
Micro USB, Micro HDMI ports
Micro SD card slot
Wi-Fi (802.11b/g/n) and Bluetooth 2.1 + EDR
Gyroscope, Accelerometer, GPS, eCompass and Ambient Light Sensor
Stereo speakers with sound enhancements by Toshiba and SRS Labs
Built-in 25 watt-hour rechargeable lithium ion battery
10.1" (W) x 6.9" (D) x 0.3" (H)
1.18 pounds (535g)
Price Cuts Coming
We're gonna take a bet with all ye schmucks that Toshiba will start discounting the Excite X10 before the end of the second quarter.
To compete against the iPad Tablet, rivals need a significantly lower price point (like the Kindle Fire).
By emphasizing the "thinness" and pricing its entry-level Excite X10 offering higher than the comparable iPad, Toshiba is playing the tablet game entirely the wrong way!