Telugu bidda Satya Nadella faces many challenges as the new head of the foundering technology giant Microsoft.
Among Nadella's most formidable challenges (albeit one inherited from Steve Ballmer) – What should be done about those disastrous Surface tablets.
It's clear to sane minds that in a million years Microsoft cannot make a success of its Surface tablets.
And the pitiful market share data proves Surface just doesn't have a hope of taking on the more mature Android or Apple iOS (iPad) tablets.
Apple iPads have the branding, quality and fanboy advantages while Android tablets score on lower prices.
Lacking any advantage, Microsoft's Surface tablet is doomed (Office compatibility is no longer a big deal in my opinion).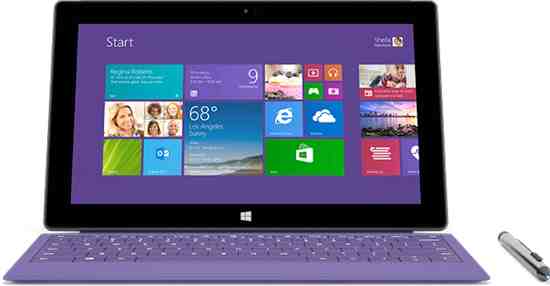 Surface Pro 2 – $899 Without the Keyboard
Surface – Billion Dollar Disaster
Late to the market, and with a confusing set of two operating systems, Microsoft has lost over a billion dollars on its tablet misadventure.
The company took a charge of $900 million last year on unsold Surface inventory and slashed prices of the older Surface models.
But the grim picture has not changed and Surface still encounters strong resistance from consumers in the marketplace.
Gartner recently put out tablet market share data for 2013 and the numbers show Microsoft in a horrible light.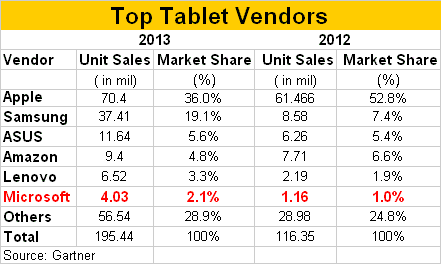 Microsoft is not even a contender.
Hell, Surface is not even among the Top-5 tablet vendors.
In 2013, Microsoft sold a piddling 4 million tablets versus 70.4 million for Apple iPads. Continue reading »