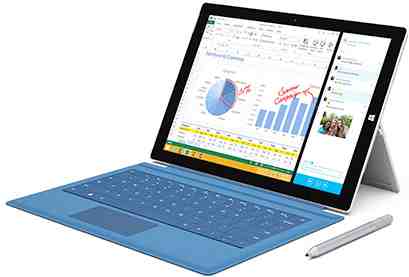 Surface Pro 3 – Discounts Start
Some companies are like some people – Plain stupid.
They never learn from their follies.
Take Microsoft and its doomed Surface tablets for instance.
Over the last few years, Microsoft has incurred losses nearing two billion dollars on its disastrous forays into the tablet arena.
No matter that Microsoft rolled out different models or programs, consumers just refused to open their wallets for the Surface tablets making them one of the biggest duds in recent years.
Microsoft's desperate efforts to woo buyers with repeated discounts went nowhere with older models of Surface. Most likely, tens of thousands of older model Surface tablets have gone into landfills polluting the planet.
Discounts – History Repeats
Microsoft made the same mistake with the new Surface Pro 3 tablet by pricing it too high.
A 512GB version of Surface Pro 3 with keyboard, case, docking station, mouse and Office software costs in excess of  $2,500. I wonder what they smoke in Redmond.
Compounding the pricing error, Microsoft positioned the device as a tablet plus PC, i.e. a laptop replacement.
Not surprisingly, the response to Surface Pro 3 too has been ho-hum.
So Microsoft is back to the same old game – Discount after discount.
This week the company announced a $150 discount off of a Surface Pro 3, Type Cover and Docking Station bundle (they must of course be purchased together).
Last week, it was a 10% education discount for teachers and students on Surface Pro 3 and Type Cover bundle.
And before that there was the $650 MacBook Air replacement discount.
Nothing sends the wrong message to potential customers than repeated discounts.
Worried that businesses may not view Surface Pro 3 as a lasting product line, Microsoft was compelled to put out a statement on October 9, 2014:
Businesses can buy with confidence. We are here to stay.
If you ask me, repeated discounts notwithstanding the Surface Pro 3 tablet will meet the same dire fate its predecessors did.