Say what you will, but I think the crazies are running the show at Microsoft while Bill Gates is off trying to rid the world of Malaria, Cholera, Diptheria and other deadly diseases.
This morning, Microsoft announced pricing for the Surface Pro tablet.
When I heard that pricing starts at $899 (64GB version), I fell off the chair in shock.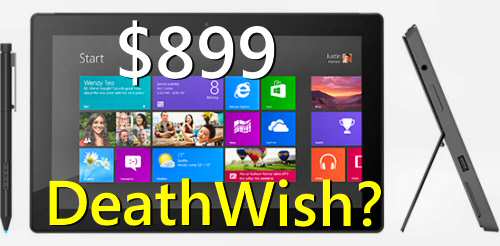 Disaster Foretold
Is it hubris?
Is it stupidity?
Or, is it what I think it is, utter Insanity?
Who in their right minds would pay $900 for a Windows tablet with very few applications even if the device is  positioned as a "laptop in a tablet package."
No, for $899 you do not get the Touch Covers or the Type Cover. They cost an additional $119 and $129 respectively.
Microsoft's pricing of Surface Pro is the chronicle of a massive disaster foretold.
In my view, you're better off getting a Windows 8 laptop for $450 at Best Buy or TigerDirect and an iPad from Apple for $499.
Surface Pro Ships in February
Running the Windows 8 operating system, , the 10.6-inch Surface Pro is powered by an Intel Core i5 processor and 4GB of RAM. It can run Windows 8 applications, as well as current Windows 7 desktop applications.
Surface Pro will be available for purchase on Feb. 9, 2013, in the U.S. at Microsoft retail stores, microsoftstore.com, Staples and Best Buy in the U.S., as well as from several locations in Canada.
Microsoft is offering Surface Pro in 64GB and 128GB models.
A Surface pen with Palm Block technology comes with the Surface Pro tablet.
So far Microsoft has not disclosed sales numbers for the Surface RT tablet it launched a few months back. I'd be surprised if it isn't a mega-disaster.
Except for Apple's iPad, none of the other  vendors (Asus, Acer, Blackberry, Motorola etc) have made a dent in the tablet market.