Life's hard for Microsoft in the tablet and mobile phone arena.
Nobody, nobody gives a damn for Microsoft's Surface tablets or its mobile phones.
Consumers don't love them.
Developers are indifferent to them (Microsoft is reduced to bribing developers to build apps).
The fault is entirely Microsoft's since it came too late to the tablet and mobile phone business.
Further, Microsoft's ridiculous tablet pricing put off potential customers who might have been willing to give this underdog a chance. In the first quarter of this year, Microsoft's market share of tablet shipments was a pitiful 1.8% (Source: IDC Report of May 1, 2013).
End Result – Apple and Android are eating Microsoft's tablet and mobile phone lunch.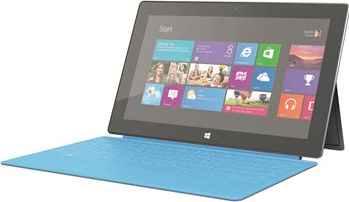 Surface RT Tablet – Discount Follows Poor Response
Heavy Discount
Now in utter desperation and with a mind to dump its excess tablet inventory, gain marketshare and add some badly needed credibility, Microsoft is trying a sneaky technique.
The technique is to offer discounts without making it seem like they're discounts.
Like any corporate loser, Microsoft is embracing what I call the Fake Altruism Trick, FAT! 😉
Microsoft recently rolled out a massive Surface RT tablet discount program for educational institutions.
Depending on the models, the discounts range from $300-$359.
A $300 discount on a $499 product is huge and amounts to a whopping 60% off!
From June 19, 2013 through August 31, 2013, K–12 and Higher Education institutions can get:
• Surface RT (32 GB) for $199 (Estimated Retail Price is $499)
• Surface RT (32 GB) Touch Keyboard Cover for $249 (Estimated Retail Price is $599)
• Surface RT (32 GB) Type Keyboard Cover for $289 (Estimated Retail Price is $629)
The 10.6-inch Surface RT tablet runs on Windows RT operating system and comes with 2GB RAM and 32GB or 64GB of storage.
Many Countries
Surface RT discounts are available not just in the U.S.
School and college students in Australia, Austria, Belgium, Canada, China, Denmark, Finland, France, Germany, Ireland, Italy, Japan, Korea, Mexico, Luxembourg, the Netherlands, Norway, Portugal, Russia, Singapore, Spain, Sweden, Switzerland and the United Kingdom are also eligible for the discounts.
If you ask me, I'd be skeptical these sneaky little tricks will help Microsoft much.
Microsoft would be better advised to relook at its pricing policies and adding innovative features if it wants to be a contender in the tablet segment.