The people have voted with their wallets and the result is an ignominious disaster for Microsoft's Surface tablet.

A new survey of tablet shipments in the first quarter of 2013 has come out and the numbers are nothing less than a catastrophe for Microsoft.
Mon dieu, Surface tablet shipments did not amount to even a million units in the quarter.
Total shipments of Microsoft's Surface RT and Surface Pro tablets combined was a tad shy of 900,000 units in the first quarter of 2013.
Since the majority of the tablets that Microsoft sold in the quarter were Surface Pro (which the company started shipping in February), it means that the Surface RT tablets (available since October) are proving to be a dud.
Surface Pro runs on Windows 8 Pro operating system while Surface RT is powered by the Windows RT operating system meant for mobile devices.
Since IDC counts shipments to both distribution channels (stores) and end users in its calculations, I wouldn't be surprised if the number of tablets that ended up in consumers' hands is actually far lower than the 900,000 figure.
Two major challenge that Microsoft faces in moving Surface tablets into the hands of customers are low-priced Android tablets and countering the strong buzz around Apple iPad, which created the tablet market and continues to dominate the category.
It's going to be extremely hard, if not impossible, for Microsoft to put up a winning fight to meet either of the challenges.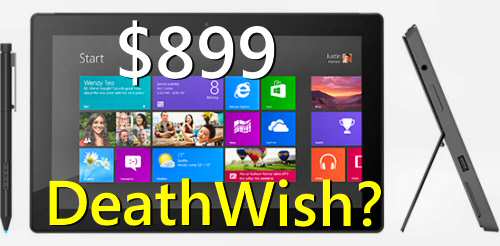 Surface Pro Tablet from Microsoft
Low End – Android Rules
At the low end, Android tablets from a slew of vendors like Samsung, Asus, Amazon (Kindle) and Barnes & Nobel are the preferred choice of customers who are unwilling or can't afford to spend over $300 for a tablet.
For instance, a Kindle Fire can be had from $159 (7-inch model) to $269 (8.9-inch), prices that are significantly less than Surface tablets.
Au contraire, Surface RT costs $499 and the Pro version is a whopping $899 (without the Touch Cover or the Type Cover).
So Microsoft's high prices effectively removes the Surface from being a contender in the low-end segment.
High End – Apple iPad is King
For customers who prefer the tablet with the most apps, the slickest finish and the maximum buzz, the obvious choice is the iPad, which starts at $499 for the 9.7-inch version and goes down to $329 for the 7.9-inch model.
Although its share is declining, Apple still rules the tablet market.
Apple has a strong loyal base of consumers that are unlikely to defect to other tablet platforms, even if they're priced lower than iPads.
In the first quarter, Apple owned nearly 40% of the total tablet market with 19.5 million units.
Samsung was a distant second with 17.9% of the market.
Smaller Surface?
Meanwhile, rumors continue to swirl that Microsoft will put out a smaller-sized Surface tablet in late June at its Build Developer Conference.
In our view, the smaller Surface tablet too will meet the same fate unless Microsoft prices the rumored 7-inch tablet below $300. Current generation of Surface tablets have a 10.6-inch screen.
But price-slashing is not a viable option for Microsoft given the inevitable high losses it will engender.
Microsoft is also said to be gearing up to widen regional distribution of both Surface RT and Surface Pro products but we doubt it'll do the company any good given the high prices.
Even if you include other vendors (like Samsung, Lenovo and Asus) that ship tablets running Windows 8 or Windows RT, Microsoft still comes off looking poorly. IDC figures total combined Windows 8 and Windows RT tablet shipments across all vendors were 1.8 million units, a piffling 3.7% of the total tablet market.
Unless Microsoft can find a fix to its Himalayan-disaster-in-the-making Surface tablets, we reckon the tablet fiasco could end up costing the company over $1 billion in losses eventually.
Bottom Line – Some fights in life cannot be won. You can at best minimize your losses!