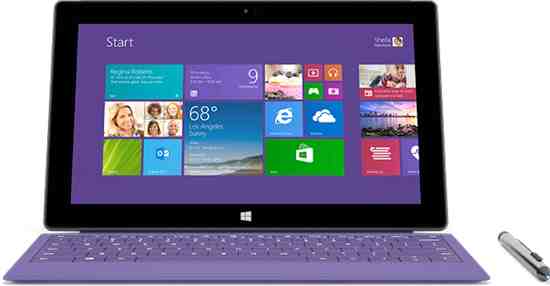 Surface Pro 2 – Starts at $899 (without keyboard)
If I've said it once, I've said it a million times.
Not until hell freezes over will Microsoft see some traction on sales of its Surface tablets.
The sucker has been a disaster from Day One.
And nothing has changed in the last 19-months except that the losses continue to pile on.
Microsoft has lost over a billion dollars on this disaster.
Surface RT and Surface Pro were released October 26, 2012 and February 9, 2013, respectively, while Surface 2 and  Surface Pro 2 debuted on October 22, 2013.
Surface – Bad gets Worse

For the first quarter of 2014, Surface tablets, yet again, failed to make it even among the Top Five Tablet Vendors.
The latest numbers for tablet sales from IDC shows the huge challenge Telugu bidda Satya Nadella, Microsoft's new CEO, faces in getting Surface into consumers' hands.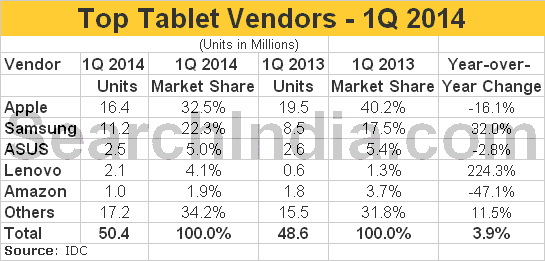 Since fifth-placed Amazon had a 1.9% marketshare, that means Microsoft's share of the worldwide tablet market is less than 1.9% and it sold less than a million units in the first quarter of 2014.
Some market researchers (Gartner) estimated Surface's market share for the whole of 2013 at 2.1%. So Surface performance in the first quarter of 2014 has been a case of bad getting worse.
In its recent 10Q filing, Microsoft put Surface revenue at $494 million for the three months ended March 31, 2014. But Surface cost of revenue for the same period was $539 million, which means Microsoft continues to lose money on the device.
Bad in India Too
Surface has been a miserable performer in India too.
According to IDC, the top five tablet vendors in India for the fourth quarter of 2013 were Samsung, Micromax, Apple, Karbonn and HCL.
IDC pegged the Indian tablet market in 2013 at 4.14 million units representing a year-on-year growth of 56.4% over 2012.
Not surprisingly, the Indian market is mostly driven by low-end devices.
Market Slowdown
Overall, the tablet market witnessed a slowdown in the first quarter of 2014, growing a modest 3.9% year-over-year.
"The slowdown was felt across operating systems and screen sizes and likely points to an even more challenging year ahead for the category," IDC said.
The market researcher blamed the slowdown on larger screen phones and consumers holding on to their existing tablets for longer periods of time.
Although Apple still continued to lord over tablet shipments in the quarter, it saw a 16% year-over-year drop over the same period in 2013.
Samsung fared well in the first quarter, growing shipments by 32% to 11.2 million units.
For consumers, the silver lining in the tablet market slowdown could be greater discounts.